JULY 27th, 5:21pm: The deal is official, the Mavericks announced via press release.
JULY 22nd, 1:59pm: The second year of Nowitzki's new deal is only partially guaranteed for $5MM, Stein writes within his full story on the agreement. Still, barring something drastic happening between now and next summer, it's hard to imagine the Mavericks waiving the future Hall-of-Famer to get out of that second year — it's likely a precaution in the event that Nowitzki decides to retire in 2017.
1:48pm: About two and a half weeks after reaching an agreement on the framework of a two-year contract, Dirk Nowitzki and the Mavericks have finalized that contract, and the deal will pay him more than initially expected, reports ESPN's Marc Stein (via Twitter). According to Stein, Nowitzki's new pact will be worth $50MM, an increase over the $40MM figure reported earlier this month.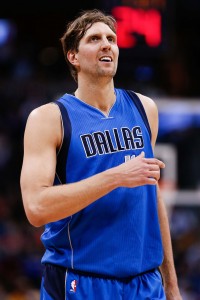 Because the Mavericks hold Nowitzki's Bird rights, the team can go over the cap to re-sign him, and can give him any salary up to his maximum, which is nearly $31MM for the 2016/17 season. Dallas has been keeping Nowitzki's $12.5MM cap hold on the books while finalizing all the other agreed-upon signings and trades from the offseason — now that the team has no more cap room left, the 38-year-old's deal can be completed.
Increasing Nowitzki's salary by an extra $5MM per year shouldn't have an impact on the team's ability to bring in any other players. The pay bump also ensures that Dirk's latest deal is worth slightly more than the final two-year, $48.5MM contract Kobe Bryant signed with the Lakers.
Even at $20MM annually, Nowitzki's new deal would have represented a significant increase in salary on his last contract, which was worth $25MM over three years. At $50MM over two years, Nowitzki's new annual average salary matches the overall value of that three-year pact.
The longtime Maverick opted out of the final year of that previous deal last month, choosing instead to work out a new, multiyear contract with Dallas. Although there were rumblings that the Warriors – and perhaps other teams – intended to reach out to Nowitzki, the Mavs were always the strong favorites to re-sign him.
Despite turning 38 in June, Nowitzki has continued to be extremely productive for the Mavericks, even as the team has slipped from title contention in recent years. In 2015/16, the German big man averaged 18.3  PPG, 6.5 RPG, and 1.7 3PG. Nowitzki's field-goal percentage did slip to .448, his worst mark since his rookie season, but he shot a respectable 36.8% on three-pointers and continued to handle a significant offensive load for the franchise.
Nowitzki's new two-year contract was reportedly expected to include a player option in year two, as of earlier this month. There's no indication yet that has changed, now that the two sides have formally hammered out the details.
Photo courtesy of USA Today Sports Images.