The Rockets made an effort to lock up two-way player Danuel House to a standard NBA contract on Tuesday, but the two sides ultimately couldn't reach a deal, prompting the team to instead use its open roster spot to sign James Nunnally. Nunnally's 10-day contract is expected to be finalized later today.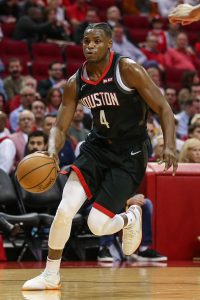 It's a somewhat surprising outcome. House had been an important part of Houston's rotation over the last couple months, averaging 9.0 PPG and 3.6 RPG with a .458/.390/.818 shooting line and playing solid defense in 25 games (24.8 MPG). Now, because he has reached the limit for the number of days a two-way player can spend in the NBA, he'll be relegated to the G League most of the rest of the way, unless he and the Rockets can find common ground on a new deal.
So why exactly wasn't House promoted to the Rockets' 15-man roster? Before we can answer that question, it's worth revisiting the team's options for the third-year swingman:
Unilaterally convert his two-way contract into a one-year, minimum-salary contract.
Offer him a two-year, minimum-salary contract using the minimum salary exception.
Offer him a three-year contract using some of the taxpayer mid-level exception.
Keep him in the G League, where he'll be ineligible to appear in NBA games until at least March 24 and won't be playoff-eligible.
There were initially some conflicting reports on what the Rockets offered House, but agent Raymond Brothers told Tim MacMahon of ESPN.com (Twitter link) that the team's proposal was a three-year, minimum-salary deal. Houston would have to use part of its mid-level exception to complete the signing, since the minimum salary exception can only be used for one- or two-year contracts. When House and Brothers passed on that offer, the Rockets offered the same three-year, minimum-salary deal, fully guaranteed.
"We rejected both offers and asked the Rockets to convert him for the remainder of the season," Brothers said. As MacMahon observes, House and Brothers want the opportunity for the 25-year-old to reach restricted free agency this summer, rather than having him play on a minimum-salary contract for multiple years.
The Rockets, meanwhile, don't want to set a precedent of converting two-way contracts into standard one-year deals for players they spend time developing, MacMahon tweets. Houston would prefer a multiyear commitment from those players, as Jonathan Feigen of The Houston Chronicle confirms, and feel that a guaranteed three-year, $4.16MM offer is fair, since that's more guaranteed money than most second-round picks – or even late first-rounders – receive.
It's an interesting standoff. It may look like a poor decision by House to play out the season in the G League, where he'll continue earning his very modest two-way salary rather than an NBA salary. He's passing on more guaranteed money than he has earned so far in his NBA career, and will spend at least the next couple months playing for the Rio Grande Valley Vipers rather than a potential Finals contender.
Still, as cap expert Albert Namhad tweets, accepting Houston's offer would also mean House takes the minimum salary through his age-27 season. If he believes he can get a better offer in the offseason, it may be worth it to wait. Remaining on his two-way contract will put him in line for restricted free agency in July.
As for the Rockets, they could end the stalemate at any time by unilaterally converting House's two-way contract into a standard minimum-salary deal, which is the option House and Brothers prefer. Perhaps it would set an unfavorable precedent in Houston going forward, but every case is different and few two-way players are likely to have the same sort of impact in the future that House has had this season. If the Rockets want to maximize their playoff chances and they don't find a wing capable of matching House's impact, they may have to bite the bullet and convert his contract at some point.
January 15 was the deadline to sign players to two-way contracts, but House and the Rockets will have until April 10, the final day of the regular season, to work out a deal. Houston simply won't be able to sign a new two-way player if House is promoted to the 15-man roster.
If House and Brothers don't relent and accept a multiyear contract, the most likely path may be one suggested by Nahmad (via Twitter). As he points out, the Rockets could recall House from the G League after the Vipers' season ends (March 24 at the earliest), and then could convert his two-way deal into a standard contract at the very end of the season (April 10).
That would significantly limit the money Houston would owe House this season, it would allow him to play in the postseason, and it would put him on track for restricted free agency this summer. It may not be a perfect outcome, but it'd be a reasonable compromise.
Photo courtesy of USA Today Sports Images.