Leading up to the February 9 trade deadline, we're keeping an eye on potential trade candidates from around the NBA. We're starting today with a handful of popular targets who share positional overlap.
---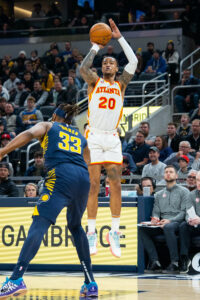 Collins is only 25 years old, but he's been in trade rumors for at least three years now. He's a good player, he just doesn't fit very well on Atlanta's roster anymore.
The reason his scoring has declined so precipitously – from 21.6 PPG in 2019/20 to 13.1 PPG in '22/23 – is because the team no longer caters to his strengths. The Hawks rarely run plays for him, which makes it seem like he's less effective. I don't believe that's the case.
Collins' best attribute as a player is that he's an excellent dive man on pick-and-rolls, where he's adept at both setting and slipping screens and is a terrific lob finisher. The problem is that's basically all centers Clint Capela and Onyeka Okongwu do on offense besides getting offensive rebounds, so their strengths are somewhat redundant on that end, and Collins doesn't have the size or strength to play center full time on defense.
He has been a solid shooter in the past – 37.6% from deep on 2.5 attempts per night over his first five seasons – but is only converting 22.8% this season. That seems more like an anomaly than a worrisome trend.
It's clear that it would be in both parties' best interests if he was moved to a new team. There are two main complications.
Including his player option in '25/26, Collins will earn $102MM over the next four years – not unreasonable, but not exactly easy to move either. His best fit would be alongside a center who can protect the paint and shoot from outside, but that's a small list. Keep an eye on the Pacers and Jazz, two teams that don't have long-term cap concerns.
Most players find their efficiency diminished with an increased offensive role — being targeted by opposing teams' game plans makes scoring more difficult. Not so with Bogdanovic, who is averaging career highs in points (21.2), assists (2.8), and free throw attempts (5.2) per game, as well as true shooting percentage (.629), in his first year with Detroit.
Bogdanovic can score from all over the court and his contract is reasonable ($39MM over two years following this season), but he turns 34 in April, is a below-average rebounder (3.6 per game), and is best suited to defending bigger forwards. The Pistons are said to be looking for an unprotected first-round pick for the veteran, and he has a long list of teams interested in his services.
I highly doubt that asking price will be met unless it's from a team outside the lottery or a pick years down the line. I understand why they're maintaining that position right now – not many sellers have emerged yet and he's one of the top players available. But I think that will change ahead of the deadline, and the Pistons will have to decide whether to take the best offer available or just hold onto him.
Crowder has been a solid role player for a long time, mostly due to his toughness, defense and ability to make quick reads on offense. He's 32 now and definitely best suited to play power forward, as he struggles staying in front of quicker players, but there's a reason his teams consistently make the playoffs.
His ability to space the floor is a bit overrated – he's more of a willing shooter than a good one, converting 34.6% of his career looks behind the arc, including 33.9% in the playoffs. That said, he's good enough that you can't just leave him open, especially if he gets hot.
Crowder's season-long holdout with the Suns is one of the strangest NBA situations I've seen in my years following the league. He's on a $10.2MM expiring contract, so you'd think he would be incentivized to play to maximize his future earnings, yet he's done the opposite.
There has to be more to the story here, but whatever the reason is, it hasn't helped his value or the Suns' ability to move him. Who knows what type of shape he'll be in when he returns? Whichever team acquires him will be taking a risk if it gives up assets.
The Suns' ownership situation also complicates matters — outgoing suspended owner Robert Sarver reportedly has to sign off on a potential deal, even though the team is being bought by Mat Ishbia. The Bucks and Hawks have been the two teams most consistently linked to Crowder.
The No. 41 overall pick of the 2018 draft, Vanderbilt has worked his way up from the bottom – he barely played at all his first two seasons (28 total games and 115 minutes), but he's turned himself into a valuable role player on competitive teams.
Vanderbilt's playing style is the most unique out of the players on this list. He's the closest to what some might call a "traditional" power forward — an energizer who is a very strong rebounder, but is still rounding out his game in other areas.
He has expanded his game with Utah, attempting more threes (1.0 per game at 32.6%), more than doubling his assists (from 1.3 to 2.8) and improving his free throw percentage (a career-high 69.8%). Interestingly, although his offensive game has improved, I think his defense has actually declined a little – he was always prone to some over-aggressive fouls, and the team's defense is certainly worse, but he hasn't looked as solid on that end to my eyes.
That said, Vanderbilt won't turn 24 until April, is still improving, and he's on a very team-friendly contract ($4.3MM this season, and his $4.6MM deal for next season is only guaranteed for $300K). The Jazz are said to be looking for a first-round pick for Vanderbilt. There haven't been any rumors regarding protections on the potential pick, but I think there's a good chance he gets moved in the next few weeks.