4:17pm: The Sixers have officially signed Brown to a two-way contract and waived Henry, the team announced in a press release.
---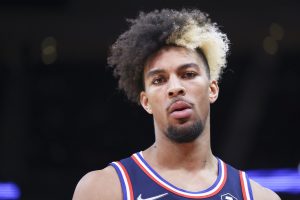 4:00pm: The Sixers will retain guard Charlie Brown Jr. beyond his current 10-day hardship deal, according to Shams Charania of The Athletic, who reports (via Twitter) that Brown will receive a two-way contract from the team. Philadelphia is waiving forward Aaron Henry to open up a two-way slot for Brown, Charania adds.
Brown is a Philadelphia native who played his college ball at Saint Joseph's. He has bounced around the NBA and G League since going undrafted in 2019, spending time with Atlanta, Oklahoma City, Dallas, and Philadelphia at the NBA level and playing for the College Park Skyhawks, Iowa Wolves, and Delaware Blue Coats in the NBAGL.
Brown began this season with Delaware, averaging 16.8 PPG, 8.1 RPG, and 1.6 SPG on .457/.400/.850 shooting in 11 games (30.2 MPG). That earned him 10-day hardship deals with the Mavs and Sixers.
He has appeared in two games since signing his 10-day contract with Philadelphia on January 3, averaging 2.0 PPG, 3.5 RPG, and 2.0 SPG in 17.5 MPG.
Henry, who went undrafted out of Michigan State in 2021, logged just 17 total minutes in six NBA games for Philadelphia on his two-way deal. In 10 G League contests for Delaware, he recorded 13.2 PPG and 4.9 RPG on .431/.327/.500 shooting. The 22-year-old will be free to sign with any team if he clears waivers.
Brown's current 10-day deal won't expire until Wednesday night, but the Sixers could terminate it early if they want to move him into his newly-earned two-way slot sooner rather than later.