Second-year Pelicans guard Kira Lewis Jr. is out indefinitely after suffering a torn ACL and a Grade 2 MCL sprain in his right knee, the team announced (Twitter link). The injury occurred in Wednesday's game against Denver and a subsequent MRI confirmed it. A surgery date has not been set.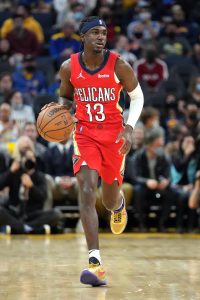 A torn ACL typically has a recovery timeline of 12 months or more, and considering Lewis suffered a MCL sprain as well, it could be a bit longer than that. The team didn't say it outright, but Lewis will miss the rest of the 2021/22 season.
The 13th overall pick of the 2020 draft, Lewis is a small, athletic point guard. He was considered a bit of a project coming out of Alabama and he has struggled to translate his athleticism at the NBA level early in his career. In 24 games this season (14.2 MPG), he averaged 5.9 PPG, 1.5 RPG, and 2.0 APG with a .404/.224/.805 shooting line.
It's a very unfortunate setback for the 20-year-old, who'd been playing better recently. Executive VP of basketball operations David Griffin is known to be high on Lewis and has reportedly pushed for more playing time for him in the past.
The Pelicans exercised their third-year option on Lewis prior to the season, so his salary will be guaranteed through next season.
Backup point guard Tomas Satoransky figures to see more minutes in Lewis' absence for the Pelicans, who hold a 7-20 record thus far, last in the Western Conference.