AUGUST 7: The Cavaliers have officially acquired Dekker from the Clippers, the club announced today in a press release. The Clippers will receive the draft rights to Vladimir Veremeenko in exchange for Dekker, the draft rights to Renaldas Seibutis, and cash.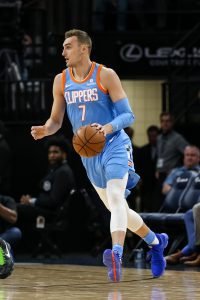 Veremeenko and Seibutis were drafted in 2006 and 2007, respectively, and aren't expected to ever play in the NBA.
AUGUST 5: The Cavaliers are finalizing a trade with the Clippers that would see forward Sam Dekker dealt from Los Angeles to Cleveland, reports ESPN's Adrian Wojnarowski (via Twitter). According to Wojnarowski (via Twitter), the two teams are still working out the specifics, but the trade will essentially allow the Clips to start clearing their roster logjam.
Dekker, 24, spent his first two NBA seasons in Houston after being selected 18th overall in the 2015 draft by the Rockets. He was included in last June's Chris Paul blockbuster between the Rockets and Clippers, part of a package that also included Lou Williams, Patrick Beverley, and Montrezl Harrell, among others.
Dekker saw his minutes cut back on his new team in 2017/18, averaging just 12.1 MPG in 73 contests for the Clippers. The former Wisconsin standout recorded 4.2 PPG and 2.4 RPG with a .494 FG% for L.A.
Having re-signed several key players and added a few new ones this offseason, the Clippers were carrying 16 players on fully guaranteed contracts, a total that didn't include Beverley and his non-guaranteed deal. As such, the club had been expected to trade or release a couple veterans before the start of the regular season in October. The Clips will get a head start on that cutdown process by moving Dekker and his guaranteed $2,760,095 salary. The move will also give the team a little extra breathing room below the tax line.
The Cavaliers won't have to send out any salary in exchange for Dekker, since they have a traded player exception large enough to accommodate his salary. Cleveland created a $5.8MM trade exception last August in their Kyrie Irving trade with the Celtics — it's the biggest of four TPEs currently held by the club, and is the only one sizable enough to fit Dekker's salary. The Clips figure to create a new TPE of their own worth Dekker's salary.
The move to Cleveland will give Dekker a chance at a fresh start, according to Jordan Schultz of Yahoo Sports (Twitter link), who hears from one source that "a lack of maturity and focus regarding basketball" have been issues for the young forward early in his career.
It will be interesting to see how the Cavaliers plan to use Dekker — he has served primarily as a four, but has spent a little time at the three as well. There may be a clearer path to playing time for Dekker at small forward, where Kyle Korver and Cedi Osman currently sit atop the Cavs' depth chart, with David Nwaba perhaps entering the mix as well. But Dekker could potentially play at power forward alongside bigs like Kevin Love or Larry Nance in smaller lineups.
While the Cavs' team salary will inch a little closer to the tax threshold with the acquisition of Dekker, it shouldn't be a major concern for the team unless Nwaba is getting a lucrative deal and/or Rodney Hood receives a substantial raise.
Photo courtesy of USA Today Sports Images.