The Timberwolves were one of the most disappointing teams in the league during the 2016/17 campaign. Blessed with two of the league's top young players in Karl-Anthony Towns and Andrew Wiggins, the Tiimberwolves made a bold move after last season and hired Tom Thibodeau as their coach and president of basketball operations.
Long considered a defensive guru, Thibodeau was supposed to greatly improve the club's mindset and turn its fortunes around quickly. It didn't happen, as the Timberwolves finished at 31-51 — just two games better than the previous season — and finished 28th in defensive field-goal percentage at 47.5%.
While Thibodeau's first season with the franchise didn't go as planned, there's still plenty of optimism that he'll guide the Timberwolves into the postseason as soon as next season. However, he's got a lot of work to do this summer to make that happen.
Here's a look at the major questions confronting the club this offseason: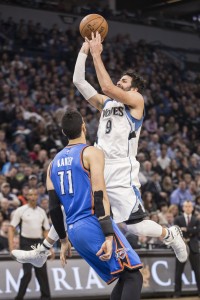 1. Will the Wolves finally trade Ricky Rubio?
Rubio's name has circulated around the rumor mill ever since Thibodeau took charge. The rumors only intensified when Thibodeau drafted Kris Dunn as his future floor leader last June.
The Knicks, Pistons, Mavericks and Kings are among the teams that have been mentioned as possible trade destinations for Rubio. To his credit, Rubio didn't seem to be affected by the talk once he took the court. He averaged career highs with 11.1 PPG and 9.1 APG but it doesn't make sense to keep this awkward situation in place for another year.
Thibodeau may be having second thoughts about Dunn but it won't affect his desire to make a change at point guard. He reportedly plans to target Knicks point guard Derrick Rose in free agency.
Whether the club is successful in landing Rose or opts to give Dunn a shot to prove himself, the Timberwolves need to move on from Rubio. The flashy European still has two years and approximately $29MM left on his contract but that shouldn't be a major impediment, considering the going rate for a starting point guard these days.
2. Andrew Wiggins and Zach LaVine are eligible for rookie extensions. What should the Wolves do?
The Wolves will probably have to max out Wiggins to keep him. As long as they view him as the second- or third-best player on a perennial contender, they should do everything possible to make that happen. Wiggins averaged 23.6 PPG in his third season and improved his 3-point shooting to a respectable 35.6%.
Negotiations with LaVine figure to be much trickier. He was enjoying a breakout season, averaging 18.9 PPG and 3.0 APG, when he tore his ACL in a February game at Detroit. There's no word whether LaVine will be ready for the start of next season, but even if he doesn't miss much time, it's fair to wonder whether he'll be the same explosive and ultra-athletic player.
The Timberwolves could take a wait-and-see approach with LaVine and then try to re-sign him when he enters restricted free agency after next season. However, if LaVine and his reps are willing to give the team a discount in the $15MM per year range, instead of betting that he'll be the same player after the injury, then the sides could come to an agreement.
3. What are Minnesota's greatest needs on the trade and free agent market?
Thibodeau said just after the season that he'll be targeting wing defenders, shot-blockers and shooters.
Of course, if the club pursues Rose, the budget to fill all those other needs will shrink.
It's also quite possible that Thibodeau will try to do something bolder — perhaps package Rubio or Dunn and the No. 6 overall pick to see if he can pry Jimmy Butler from the Bulls or a similar All-Star level player.
If Nikola Pekovic retires as expected, the Wolves would have up to $32MM to sign Rose or another solid starter, as well as fortify their bench. Danilo Gallinari, J.J. Redick, Nikola Mirotic or Dion Waiters would give the club the quality outside shooter Thibodeau covets. P.J. Tucker would be a great fit as a wing defender, while Taj Gibson or Serge Ibaka would help Minnesota's interior defense.
4. Should the Wolves re-sign Shabazz Muhammad?
Thibodeau said that he wants to retain the swingman, who has been one of their main reserves over the past three seasons. He'll be a restricted free agent once the Timberwolves extend a qualifying offer.
While the Timberwolves can match any offer sheet, it's doubtful they'll go completely overboard to keep him with the need to lock up Wiggins and Towns in the near future.
The Nets reportedly are interested in Muhammad, a solid scorer but subpar 3-point shooter. Given the money the Nets threw at Donatas Motiejunas, Tyler Johnson, and Allen Crabbe — only to see those offer sheets matched — the Timberwolves could have a tough call if Brooklyn or another suitor tries similar tactics with Muhammad.
5. Which player could the Wolves choose with the No. 7 pick?
Kentucky's Malik Monk would fill the need for a big-time shooter who can score in bunches. Monk averaged nearly 20 PPG in his only season with the Wildcats and shot 39.7% from long range. With the uncertainty surrounding LaVine's health, he could step right in at the shooting guard spot if LaVine is slow to recover.
Florida State's combo forward Jonathan Isaac would be an intriguing choice, considering the athleticism and length he brings to the table. He has the ability to guard multiple positions, filling a major need for a defensively-challenged club.
Gonzaga's Zach Collins would be a bit of a reach at this point of the draft but he would complement Towns' skill set with his size and shot-blocking prowess.
Here's where things currently stand for the Timberwolves financially:
Guaranteed Salary
Ricky Rubio ($14,275,000)
Gorgui Dieng ($14,112,360)
Nikola Pekovic ($11,600,000)
Andrew Wiggins ($7,574,323)
Cole Aldrich ($7,300,000)
Karl-Anthony Towns ($6,216,840)
Kris Dunn ($4,046,760)
Nemanja Bjelica ($3,949,999)
Zach LaVine ($3,202,218)
Tyus Jones ($1,471,382)
Kevin Martin ($1,360,305) — Waived via stretch provision.
Total: $75,109,187
Player Options
Team Options
Non-Guaranteed Salary
Restricted Free Agents
Shabazz Muhammad ($4,187,598 qualifying offer / $7,615,748 cap hold)
Total: $7,615,748
Cap Holds
Brandon Rush ($4,200,000)
No. 7 overall pick ($3,821,640)
Adreian Payne ($3,100,094)
Omri Casspi ($1,471,382)
Total: $12,593,116
Projected Salary Cap: $101,000,000
Maximum Cap Room: $32,037,943

Although Pekovic remains on the Timberwolves' books, medical retirement appears likely for him. If that becomes official, the Wolves could remove Pekovic's charge from their cap, leaving the team with nine guaranteed salaries, a cap hold for a first-round pick, and two cap hits for empty roster spots, totaling $68,962,057. That would leave enough room to offer a maximum-salary contract to any free agent with less than 10 years of NBA experience.
Footnotes:
Hill's salary becomes fully guaranteed after June 30.
Salary information from Basketball Insiders and The Vertical was used in the creation of this post. Photo courtesy of USA Today Sports Images.