The trade that sent Paul George to Oklahoma City in exchange for Victor Oladipo and Domantas Sabonis, widely panned at the time, was the catalyst for the Pacers' surprisingly strong 2017/18 season. Although they were unable to knock off the Cavaliers in the first round of the playoffs, the Pacers won 48 regular-season games and then gave LeBron James' squad all it could handle in the Eastern Conference quarterfinals.
Having cleverly sidestepped the prospect of a potential rebuild, the Pacers are now in position to keep fortifying an impressive roster, given their cap flexibility.
Here are five key questions facing the franchise this summer: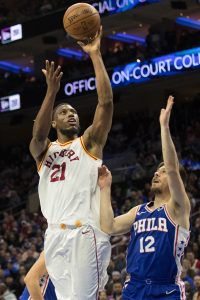 1. Will Thaddeus Young opt out of his contract?

The second-highest-paid player on the Pacers' roster in 2017/18, Young also averaged the second-most minutes per game behind Oladipo, playing an important role in the team's success. Still, as a frontcourt player who doesn't protect the rim or make many outside shots, Young probably wouldn't be one of the league's most coveted free agents if he opts out of his contract this summer.
Nonetheless, Young is reportedly strongly considering the possibility of declining a player option worth $13.76MM. The veteran forward, who turns 30 on Thursday, may never again have a better chance to land a long-term contract than he does this summer, so even if he has take a pay cut for 2018/19, signing a multiyear deal and receiving some long-term security could be worth it.
Young's decision will have a significant impact on the Pacers' cap outlook for next season. If he opts out and doesn't re-sign in Indiana, the club could potentially double its available cap room, which would create new opportunities in the free agent and/or trade market.
The best outcome for both sides may see Young turn down his player option in order to sign a new contract with the Pacers. For instance, an agreement in the three-year, $30MM range would give Young a good reason to turn down a one-year payday of $13MM+, and it would open up some extra cap space for Indiana this summer.
2. Will the Pacers retain their veterans on partially guaranteed contracts?

The majority of players around the NBA who are on non-guaranteed or partially guaranteed contracts for 2018/19 will earn the minimum salary if they're retained. That's not the case for three Pacers veterans, who would make a combined $30.5MM if they stick with Indiana.
Bojan Bogdanovic ($10.5MM) and Darren Collison ($10MM) signed similar two-year contracts with Indiana last summer, and now both look like good bets to return for next season. Bogdanovic only has a $1.5MM guarantee, but he had an excellent year as the Pacers' starting small forward, averaging a career-high 14.3 PPG and knocking down 40.2% of his three-pointers. At $10.5MM on an expiring deal, he's a solid value, and the same can be said for Collison, who has a $2MM partial guarantee for now. As Indiana's starting point guard, he recorded 12.4 PPG and 5.3 APG to go along with a league-leading .468 3PT%.
That leaves Jefferson, who also has a $10MM salary for next season, with $4MM currently guaranteed. Unlike Bogdanovic and Collison, the 33-year-old isn't a regular rotation player for the Pacers, having established new career lows in minutes in each of his two seasons in Indiana. The Pacers would save $6MM by waiving Jefferson, and I'd be surprised if they don't take advantage of that opportunity.
It's possible that the outlooks for these players could change — if the Pacers get a shot at a marquee free agent, perhaps Bogdanovic and/or Collison would need to be waived to create extra cap space. If Indiana has to add salary to a trade package to make a major deal work, or needs to reach the minimum cap floor, perhaps Jefferson's salary will get guaranteed. But for now, the club's decisions seem fairly straightforward.