In the days leading up to the February 23 trade deadline, Hoops Rumors is taking a closer look at each of the NBA's 30 teams, by division. We'll be identifying each team as a buyer, seller, or something in between, and discussing which teams and players are most likely to be involved in deals this month. We've already covered the Atlantic, Northwest, Southeast, Pacific, and Central. Today, we're examining the Southwest.
Buyers:
The Spurs (43-13) lead the way among the Southwest's group of buyers, but R.C. Buford typically isn't all that active around the deadline. Even though San Antonio has been a perennial title contender in recent years, the team's only in-season trade since 2013 came three years ago, when the Spurs sent Nando De Colo to Toronto in exchange for Austin Daye. It wasn't exactly a franchise-altering move. While it's possible the Spurs do something small at this year's deadline, there's a strong chance they'll simply stand pat.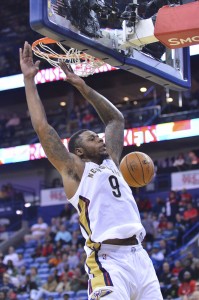 The Rockets (40-18) have also expressed reluctance to make major changes and upset team chemistry, but Daryl Morey is always exploring potential upgrades, and has a long history of making deadline deals. Houston technically didn't make a move at the deadline a year ago, trading for Josh Smith in January rather than February. But before 2016, Morey had made at least one deadline deal every year since taking over as the club's GM in 2007. This year, the club has been linked to veterans like Wilson Chandler, and reportedly has some interest in adding a ball-handler.
It may be a quiet deadline for the Grizzlies (34-24), who had been on the lookout for a backup point guard and an athletic big man. Toney Douglas has been solid in the backcourt since rejoining the club, and Brandan Wright has been effective in the frontcourt since getting healthy, so those needs may not be quite as pressing now. Memphis has already traded away its 2017 and 2019 first-round picks, which doesn't leave a lot of ammo for the club to go after a legitimate impact player this week.
Speaking of legitimate impact players, the Pelicans (23-34) already made their big move this week, swinging a deal with Sacramento for All-NBA center DeMarcus Cousins. That trade signaled that New Orleans is a strong buyer this month, despite being 11 games below .500, and the club may not be done yet. Having sent out three guards in the Cousins swap, the Pelicans are in the market for backcourt help, and have reportedly Terrence Jones available as they search for deals.