Over the course of the 2018/19 NBA season, up until February's trade deadline, we're keeping an eye on potential trade candidates from around the NBA, monitoring their value and exploring the likelihood that they'll be moved. Each of these looks at possible trade candidates focuses on a specific division, as we zero in on three players from that division.
When we launched our 2018/19 Trade Candidate series last month, we began with the Central, where Kyle Korver and Robin Lopez were among the players that appeared to be available. Having worked our way through the NBA's other five divisions since then, we're circling back to the Central, which features several more viable candidates to be dealt, including one veteran who made headlines today.
Here's our latest look at a few possible trade candidates from the Central…
J.R. Smith, G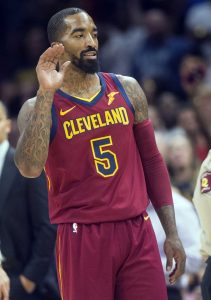 Cleveland Cavaliers
$14.72MM cap hit; partially guaranteed salary ($3.87MM of $15.68MM) in 2019/20

Shortly after Smith reiterated his desire to be traded and expressed his belief that the Cavaliers aren't trying to win, word broke that he and the team would be spending some time apart. Smith was already one of the league's most obvious trade candidates. Now, he's entered the Carmelo Anthony zone — Smith will remain away from the Cavs while his reps and the team's front office try to find a trade.
If Smith was still making 37.5% of his three-pointers and providing the Cavs with solid minutes like he did last season, it'd be easier for the club to make a deal. Instead, he's struggling with his shot (.342 FG%, .308 3PT%), raising uncertainty about whether he's worth the investment for any potential suitors.
If they hope to get even a low second-round pick for Smith, Cleveland will have to be willing to take on some multiyear money from a team that needs another wing and wants to maximize its 2019 flexibility. The Pelicans, who could offer Solomon Hill's contract, could be one viable option.
Justin Holiday, G
Chicago Bulls
$4.38MM cap hit; unrestricted free agent in 2019

Like teammate Robin Lopez, Holiday is a veteran on an expiring contract who looks expendable for the lottery-bound Bulls. Holiday may not provide as much on-court value as Lopez, but he has a more team-friendly cap hit and is on track for a career year.
In 17 games (all starts) so far this season, Holiday is averaging 11.9 PPG and 3.6 RPG to go along with career highs in APG (2.3), SPG (1.6), and 3PT% (.400). Not only is he making 40% of his three-point attempts, but he's knocking down a career-best 2.9 per game.
The 29-year-old isn't an elite three-and-D wing and his advanced numbers are a little troubling — the Bulls have a -15.4 net rating when Holiday plays, compared to +4.0 when he sits. Still, he's a solid low-cost, low-risk contributor who could net the Bulls a second-round pick at the deadline.
Jon Leuer, F/C
Detroit Pistons
$10MM cap hit; guaranteed $9.51MM salary in 2019/20; UFA in 2020

Leuer's on-court value has slipped in the last couple years as he has battled injuries and has been mostly relegated to the bench even when he's healthy. However, he could be the salary-matching piece the Pistons need to include in a deal to upgrade on the wing.
Leuer's $10MM cap hit for this year matches up well with a number of mid-level type players, and his deal, which declines in value to $9.5MM next season before expiring in 2020, isn't an albatross.
The Pistons currently rank 29th in the NBA in three-point shooting percentage, so improving that 31.6% figure will be a priority this winter, even after Luke Kennard returns to action. Courtney Lee could be a target, using Leuer and a draft pick as bait. Even J.R. Smith, discussed above, could be a potential match for the Pistons using a similar package.
Previously:
Photo courtesy of USA Today Sports Images.