NBA rosters will undergo some changes over the course of the 2017/18 season, particularly around the trade deadline, and those changes may have an impact on teams' cap sheets for future seasons. Based on the NBA's current rosters, however, we can identify which teams are most and least likely to have cap room in the summer of 2018, which will dictate the type of moves those clubs can make in the offseason.
We're taking a closer look at each of the NBA's 30 teams by division this week. Today, we're tackling the Pacific division. With the help of salary information compiled by Basketball Insiders, here's how the summer of 2018 is shaping up for the five Pacific teams:
Golden State Warriors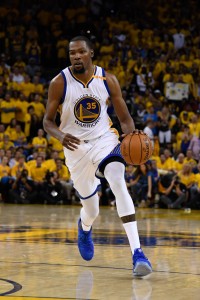 Guaranteed 2018/19 team salary: $102,091,455
Projection: Over the cap
The Warriors' total guaranteed salary of $102MM for next season looks modest at first glance. But that figure only accounts for seven players, and Kevin Durant isn't one of them. Even if Durant is willing to sign for several million less than the max again, which is certainly no lock, re-signing him and then filling out the rest of their roster figures to take the Dubs into luxury-tax territory.
Phoenix Suns
Guaranteed 2018/19 team salary: $70,667,235
Projection: Up to approximately $28MM in cap room
While the Suns' return in the Eric Bledsoe trade was widely viewed as underwhelming, the move did clear $15MM in guaranteed salary from the club's 2018/19 cap, creating additional flexibility. Retaining Alan Williams – who has a non-guaranteed salary – and re-signing Alex Len would cut into the Suns' cap space. However, neither of those moves are locks at this point, so Phoenix could get easily get to $25MM+ in cap room, and could potentially open up even more room by trading Jared Dudley and/or Tyson Chandler, who will be on expiring contracts next season.
Sacramento Kings
Guaranteed 2018/19 team salary: $68,252,577
Projection: Up to approximately $33MM in cap room ($16MM if player options exercised)
There have been no reports yet suggesting that Kosta Koufos and Garrett Temple will exercise their player options for 2018/19, which are worth about $8.74MM and $8MM, respectively. The Kings should probably be preparing for that outcome though — neither player has a major role, and the free agent market won't be as player-friendly as it was in 2016, when Koufos and Temple signed their current deals.
If those options are exercised, the Kings' guaranteed salaries will increase to about $85MM, limiting their cap flexibility. But they'll also be able to dedicate that remaining cap room to a single player, if they so choose — assuming Koufos and Temple return, Sacramento would head into the offseason with 14 players under contract, not including draft picks.
Los Angeles Clippers
Guaranteed 2018/19 team salary: $59,880,133
Projection: Up to approximately $31MM in cap room
Only five Clippers players currently have fully guaranteed salaries for 2018/19, but there are several other candidates to return. For one, Patrick Beverley and his $5MM non-guaranteed salary will certainly be back — that's a tremendous bargain for one of the league's best defensive players, and our cap projection for the Clippers assumes he'll be on the books at that price.
Our cap projection doesn't take into account any player options though, and four Clippers players hold those options for 2018/19. DeAndre Jordan, who figures to land a lucrative multiyear deal, will likely turn down his $24MM option, but Austin Rivers ($12.65MM), Milos Teodosic ($6.3MM), and Wesley Johnson ($6.1MM) are candidates to opt in. If all three of those players pick up their options and Beverley is retained, the Clips' cap room will essentially disappear.
Los Angeles Lakers
Guaranteed 2018/19 team salary: $49,336,471
Projection: Up to approximately $47.5MM in cap room
The Lakers' desire to open up two maximum-salary slots for the 2018 free agent period has been well publicized, but the team still has some work to do to achieve that goal. Based on a $101MM cap, maximum salaries for, say, LeBron James and Paul George would be worth a combined $65.65MM in 2018/19. L.A. remains about $18MM shy of that figure, even assuming the team renounces Julius Randle, Brook Lopez, and Kentavious Caldwell-Pope.
Of course, moving Luol Deng's $18MM salary would just about get the Lakers there, but finding a club willing to take on that deal without sending out any salary in return will be challenging, to say the least. Waiving and stretching Deng's contract next July and dumping Jordan Clarkson's $12.5MM salary is probably a more realistic path for the Lakers to get into that range for two max deals.
Previously:
Photo courtesy of USA Today Sports Images.