After spending several years mired in NBA obscurity as the ramifications of an ill-fated trade with Boston limited their ability to acquire impact talent, the Nets finally broke through in 2018/19, earning their first playoff berth since 2015.
Suddenly, with the weight of the Celtics trade off their shoulders (Brooklyn's 2018 first-round pick was the final piece of that deal), the Nets have a bright future ahead of them. They managed to add young talent like D'Angelo Russell, Caris LeVert, and Jarrett Allen in recent years despite a dearth of lottery picks, and they're now positioned to bring in one or two star free agents to complement their young core.
Here are five key questions facing the franchise this summer:
1. What does the Nets' Allen Crabbe trade signify?

It's rare for two NBA teams to reach an agreement on a trade before the NBA Finals end, but the Nets and Hawks did just that last week, agreeing to a swap that will send Crabbe to Atlanta along with two first-round picks (this year's No. 17 overall selection and next year's top-14 protected pick). In return, Brooklyn will receive solid young wing Taurean Prince, Atlanta's 2021 second-round pick, and – most importantly – additional cap flexibility.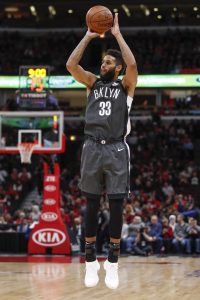 The trade can't officially be completed until July for cap reasons. But after removing the cap hold for the No. 17 pick ($2.96MM) and Crabbe's expiring salary ($18.5MM) from their books and replacing it with Prince's expiring deal ($3.48MM) and an empty roster charge ($897K), the Nets will have created about $17MM in extra cap space.
Before the deal, the Nets had no path to two maximum-salary slots and wouldn't have had enough space for even a single max free agent if they'd retained Russell's cap hold. Now, even if Russell sticks around, the club can comfortably afford a max-level player along with a second free agent above the mid-level. Renouncing Russell would clear a path to two max slots (with a caveat, as we'll explain in the next section).
Teams generally don't make this sort of move unless they know something — the Nets aren't giving up two first-round picks to shed salary unless they're pretty confident that the extra cap space will come in handy.
It's probably not a coincidence that rumors linking Kyrie Irving to Brooklyn heated up right around the same time this deal was agreed upon. While things could change in the next few weeks, the possibility of Irving becoming a Net looks increasingly likely in the wake of the Crabbe trade, as a Thursday report suggested.