The pain was bearable, but Al Jefferson still had tears in his eyes. One night after he injured his knee after a routine block, Jefferson sat inside a doctor's office; his season was over and he wondered if his career was too.
It was February 8, 2009, when Jefferson, then a member of the Timberwolves, swatted a dunk attempt by Sean Marks, the current general manager of the Nets. Jefferson landed awkwardly on his right knee, hopped nine times on his left foot, and collapsed to the hardwood.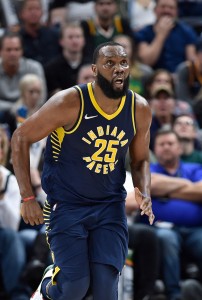 "What happened was, I went up and blocked a shot, I blocked it on the backboard and threw my body off so I came down wrong," Jefferson told Hoops Rumors in February during a Pacers shootaround in Brooklyn. "I heard [my ACL] pop, as soon as I hit the ground. I was like 'Oh, s**t!'"
Jefferson said he wanted to return to the game, but with 27 seconds left, it wasn't worth risking further injury. In reality, Jefferson's injury was as serious as it gets.
"I actually injured my MCL earlier that year and that was more pain," Jefferson said. "I'm thinking like, 'Oh, it's not as bad, the pain is going away.' So, when I went and got the MRI and [the doctor] told me it was an ACL tear, I just remember tears in my eyes thinking 'ugh!'"
Jefferson, 24 at the time, was in the midst of his best season, averaging 23.1 PPG and 11.0 RPG. He was viewed as a potential cornerstone for a rebuilding Minnesota team that featured talented rookie and future All-Star Kevin Love.
Two years removed from the departure of Kevin Garnett, Jefferson's development was vital to the Timberwolves' future. That future hinged on the ligaments inside the 6'10" center's right knee.
The ACL is a thick, index finger-sized cord that stabilizes the knee and is one of four main ligaments that connects the femur (thighbone) to the tibia (shinbone). A tear of the ACL is usually caused by a swift change in direction, which is common among basketball players. The injury is often times a freak accident on a routine play and not the result of years of wear and tear.
Statistics compiled by the ACL Recovery Club and Hoops Rumors show that since 1970, 96 NBA players suffered a torn ACL either before or after their debut. Of those 96 players, eight of them suffered the injury twice.
"I had my injury in 2009. You look back to the 1980s, [a torn ACL] was pretty much a career-ending injury," Jefferson said.
Jefferson is right. From 1970 through 1990, 18 players tore their ACL and eight of them played three or fewer seasons after their return. The list of players who never played again after a torn ACL include Hall-of-Famer Billy Cunningham, 1973 first overall pick Doug Collins, and NBA champion Chris Andersen.