The Thunder and forward Davis Bertans have agreed to revise part of the sharpshooter's contract, sources tell Michael Scotto of HoopsHype (Twitter link).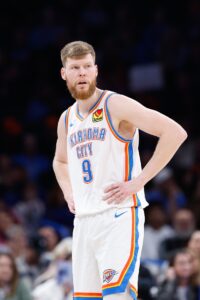 As Scotto details, if Bertans had appeared in 75% of Oklahoma City's games this season, his partially guaranteed deal for 2024/25 would have become fully guaranteed at $16MM. However, that clause has been removed. Instead, Bertans will receive a slight increase to his partial guarantee for next season, from $5MM to $5.25MM.
Bertans has only played in five of the Thunder's 17 games this fall, so it seems unlikely he would have hit the 75% trigger threshold. By agreeing to remove that clause, he'll earn $250K.
The move won't have an impact on Bertans or the Thunder in '23/24, as his salary for this season is fully guaranteed at $17MM.
Bertans, who turns 32 in a couple weeks, is averaging career lows of 3.4 points and 9.2 minutes per night. Nicknamed the "Latvian Laser" for his shooting prowess, Bertans holds a career mark of 39.7% from three-point range. He has converted three of his 12 looks from beyond the arc in '23/24.