The Raptors remain in the midst of their best multiyear stretch in franchise history. After never winning more than 47 games in a season during the first 18 years of their existence, the Raps have topped that total in each of the last four years, recording 50+ wins for the second time in 2016/17. After winning only one playoff series in the first 20 years of the team's existence, Toronto notched three postseason series victories in the last two seasons.
Still, the Raptors' 2016/17 season ended on a sour note. After acquiring Serge Ibaka and P.J. Tucker at the trade deadline in an effort to seriously threaten the Cavaliers in the East, Toronto was thoroughly outmatched in the Eastern Conference Semifinals, failing to win a single game against Cleveland. The resounding defeat created uncertainty about what the future looks like for the Raptors, particularly since key players like Ibaka, Tucker, and Kyle Lowry are unrestricted free agents this summer.
Here are five important questions facing the Raptors as they enter the offseason…
1. Can the Raptors afford to re-sign multiple key free agents?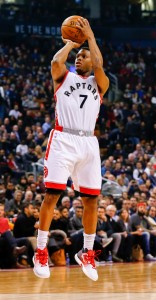 Before considering whether or not it makes on-court sense to re-sign several of their key free agents, the Raptors will need to determine exactly how far into tax territory ownership is willing to go to keep this roster intact. With about $77MM already in guaranteed salaries on the books for 2017/18, the club would likely need to commit another $60MM+ to re-sign Lowry ($30MM), Ibaka ($20MM), and Tucker ($10MM). And that's assuming Patrick Patterson, another valuable rotation piece, doesn't return, since team president Masai Ujiri has said it's not realistic to bring back all four players.
Those salary figures are estimates, but I think they're in the general ballpark, and they'd put the Raptors way over the projected $121MM tax line. Maple Leaf Sports & Entertainment, the company that owns the Raptors, has no shortage of money available, but it's not like this is a championship roster that needs to be kept intact at any cost. Ownership will almost certainly draw the line somewhere — depending on where that line is drawn, it may not be realistic for the Raptors to re-sign certain free agents unless they move other contracts in trades.
2. Can the Raptors afford not to re-sign multiple key free agents?
After watching the Cavaliers' decimation of the Raptors in this year's playoffs, it's easy to say Toronto should blow up its roster, focus on adding young talent, and work toward contending a few years from now, when LeBron James' peak is over. But that's much easier said than done.