The Raptors' decision to part ways with Coach of the Year Dwane Casey and then to trade beloved star DeMar DeRozan generated some angst among the fanbase last summer. But the moves ultimately paid off in dividends for the long-snakebitten organization this spring.
A Raptors postseason run that featured an improbable Game 7 buzzer beater against the Sixers and a comeback from a 2-0 deficit against the Bucks culminated with a Finals win over the Warriors for Toronto's first NBA championship. Now, with the hangover from that title celebration still wearing off, the club will have to figure out whether it can keep All-NBA forward Kawhi Leonard and make another run in 2019/20.
Here are five key questions facing the franchise this summer:
1. Will Kawhi Leonard re-sign?

With Kevin Durant expected to miss the 2019/20 season due to his torn Achilles, Leonard is unquestionably the top free agent on the market. And with just hours remaining until free agency officially begins, we still don't really have a sense of what his plans are.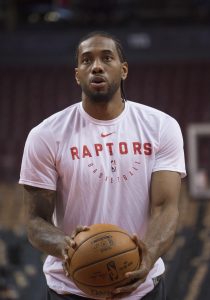 Did his championship run with the Raptors make him gain a new appreciation for Toronto or does he still want to play in his hometown of Los Angeles? Would teaming up with LeBron James and Anthony Davis on the Lakers appeal to him after he led a team to a championship as the unquestioned No. 1 option? Does he want to join forces with another top free agent like Durant or Jimmy Butler? Does he intend to sign a shorter-term deal or opt for long-term security?
All of these questions remain up in the air, which makes it impossible to get a good read on how likely a return to Toronto is. That puts the Raptors in a tough situation, especially if Leonard doesn't intend to make a quick decision once free agency opens, since their outlook going forward hinges on whether they'll have the Finals MVP for five years, two years, or one year — or not at all.
Fortunately for the Raptors, they're not in a position where they'd have to remain in a holding pattern with other top free agents as they wait for Leonard's decision. They don't project to have cap room, so Kawhi's decision may actually not impact their 2019 offseason roster moves in a huge way. Most of their key contributors remain under contract.
It's possible Danny Green's free agency decision will be tied to Kawhi's to some extent, and the Raptors may not be limited to just the taxpayer mid-level exception if Leonard heads elswhere Otherwise, I wouldn't expect their short-term plans to change too drastically based on Kawhi's decision.