Things seemed to be on the upswing for the Timberwolves in 2017/18, when the team snapped a 13-year postseason drought, winning 47 games and winning a playoff game for the first time since 2004. However, that positive momentum came to a halt last fall, when Jimmy Butler's trade demand disrupted and derailed the Wolves' season before it began.
Butler was eventually traded to Philadelphia, but Minnesota was never really in the playoff hunt in 2018/19, and Tom Thibodeau's handling of the Butler saga ultimately led to his dismissal. Heading into the 2019 offseason, the Wolves now employ a new president of basketball operations (Gersson Rosas) and a new permanent head coach (Ryan Saunders) as the organization looks to get back on track and resume contending for the postseason.
Here are five key questions facing the franchise this summer:
1. Which players will Gersson Rosas view as keepers?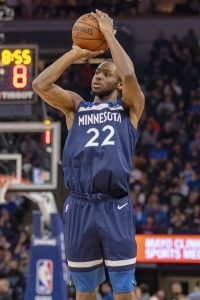 When a team overhauls its front office, that doesn't necessarily mean a roster overhaul will follow. But executives generally have stronger attachments to players that they've drafted, signed, or traded for than the ones they've inherited.
This will be the first time Rosas has decision-making power in an NBA front office. While his long stint in Houston's front office is somewhat instructive, we'll be learning for the first time in the next year or two what sort of players he likes, and which Timberwolves players fit that bill.
The front office changes in Minnesota are unlikely to impact someone like Karl-Anthony Towns, who would be a franchise cornerstone no matter who is running the team. But how invested will Rosas be in players like Robert Covington and Dario Saric? They were the key assets the team received in return for Butler last fall and would still have positive trade value if Rosas isn't attached to them. Assuming he likes them, they could become long-term building blocks for the Timberwolves.
Rosas' evaluation of the players on his new roster will impact young prospects under contract (like Josh Okogie and Keita Bates-Diop) and veteran free agents (such as Derrick Rose and Taj Gibson) alike, so it should be an interesting summer in Minnesota as Rosas gets his first opportunity to oversee a series of roster moves.