The Warriors set a new NBA record by winning 73 regular-season games in 2015/16, but 2016/17 was truly their scorched-earth season. Golden State kicked off the NBA's new league year last summer by landing Kevin Durant, the top free agent on the market, then cruised to a 67-win regular season and turned it up another notch in the playoffs — the Dubs won 16 of 17 postseason contests en route to their second title in three years.
In the wake of the Warriors' NBA Finals win over the Cavaliers, NBA observers fretted over Golden State's dominance, wondering if it's even worth it for 80% of the league's teams to make win-now moves this summer. That means this offseason should be a cakewalk for the Warriors, right? Well… maybe not. Although they don't expect to lose any stars, the Dubs only have five players under contract heading into July, so there's still plenty of work to do.
Here are five key questions facing the Warriors this offseason:
1. Stephen Curry and Kevin Durant will definitely be back, right?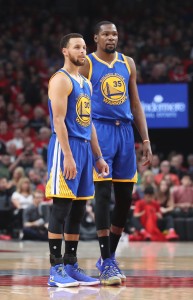 Yes. As fun it would be to have either of these guys lining up a handful of free agent meetings like Durant did last July, they're not going anywhere. Both former MVPs will technically become unrestricted free agents on July 1, but they'll quickly come to terms on new deals with the Warriors. It's just a matter of figuring out what those new agreements will look like.
For Curry, who is eligible for a Designated Veteran Extension, there's no reason to think that the Warriors will offer him any less than the full super-max, which currently projects to pay him just over $200MM for five years. The two-time MVP has been one of the NBA's best bargains on his current four-year, $44MM contract, and the Warriors won't gain any additional cap flexibility by asking him to accept less than the max.
Durant's case is a little trickier, but it sounds like he's willing to settle for less than a maximum salary contract in 2017/18. A true max for Durant is currently projected to be worth $34.5MM next season, but the Warriors would have to create cap room to make such a deal work. By signing another short-term deal and settling instead for about $31.85MM, a 20% raise on last year's salary, the 28-year-old would let the Warriors to stay over the cap. That would allow the team to hang onto its Bird rights for key contributors like Andre Iguodala and Shaun Livingston.