With D'Angelo Russell and Timofey Mozgov officially in Brooklyn, the Nets' focus now turns to building and sustaining a positive, winning culture. Despite a league-worst 20-62 record in 2016/17, the Nets have made major strides by drafting promising young prospects, signing productive veterans, and relying heavily on an experienced coaching staff.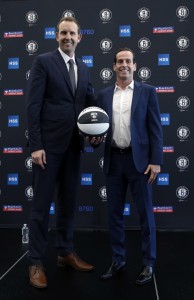 "Look, this is a new start for us as an organization. It started a year ago, we turned the page a little bit and this is another step in that direction," Nets general manager Sean Marks told a scrum of reporters – including Hoops Rumors – at Monday's introductory press conference. "We're not gonna dwell on the past, just like how I don't dwell on 'Jeez, I wish I still had that first pick.' I get asked that question every day. Nothing I can control there."
The Nets' now-infamous trade for Kevin Garnett, Paul Pierce, and Jason Terry in 2012 cost the team several first-round picks, the latest of which turned into Washington's Markelle Fultz, selected first overall by the Sixers last week. However, as Marks observes, dwelling on miscalculations of administrations past will not bring Brooklyn from the cellar to contention.
Veteran Trevor Booker was solid for the Nets last season; a healthy Jeremy Lin showed he's cut out for the New York City atmosphere; 2015 draft pick Rondae Hollis-Jefferson took on an increased workload; and 2016 draft pick Caris LeVert was solid in limited time. Now the team aims to upgrade through the most sensible method.
"Listen, I think we kind of undervalue or not talk about Mozgov, [because] he's an effective player. He's a big guy who can fit into how we play the game, which is important," head coach Kenny Atkinson said. "We have Booker, we can play Rondae at the four. I think Sean and I are talking about the roster and how it's going to fit into free agency. We're heavy in those discussions."
Marks echoed his coach's sentiments, noting that the organization is taking an all-encompassing view to potential roster upgrades.
"We are going to keep all of our [options] in our back pocket and see what happens," Marks said. "Whether it's restricted free agency, just free agency, or capitalizing on some other trades that come up. We're focused on all those things."
Coaching will be key for a young Nets team — after all, Russell, arguably one of the team's most significant acquisitions since moving to Brooklyn, is still just 21 years old. There have also been reports that Lin, who signed a three-year pact last summer, has spoken to and urged players around the league to consider Brooklyn in free agency.
"Everyone can tell this culture is completely different. There's a freshness, a different vibe. I think what we did after the All-Star break will help, but also, players just want to be treated the right way and I know there's definitely a lot of interest," Lin said recently (via Nets Daily). "Players are asking a lot about us because they saw the way Kenny coached, saw how hard these guys play night in and night out, how unselfish we played, they want to be a part of that."
That positive culture will immediately be tested with Russell, a player whose talent has never been questioned, but who has been criticized for a perceived lack of maturity and leadership. He sat on the stage Monday sandwiched between Atkinson and Mozgov – his new coach and last year's teammate – and said all the right things.
Russell didn't take shots at Magic Johnson, and had plenty of praise for his new teammates and organization despite only knowing them for a few days. The young point guard added that coming to New York was a "celebration."
"I think he is aware this is a new chapter for him, and in a sense, he does get to start over," Marks said. "That's kind of the beauty of a trade. You get to come here and make it your own. All the preconceived notions that other teams, players, whatever they may have about you … it's going to take time — not just D'Angelo, this is anybody that comes into a new organization — to develop that sort of trust and respect."
Photo courtesy of USA Today Sports Images.