With current Nets players practicing on the court behind the main stage, Brooklyn's newest acquisitions, D'Angelo Russell and Timofey Mozgov, were showcased for the first time on Monday at the team's practice facility.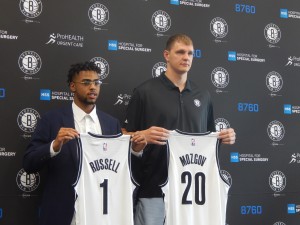 Acquired from the Lakers in a blockbuster trade last week, the 21-year-old point guard and NBA champion center now join a rebuilding Nets franchise coming off a season in which the team had a league-worst 20-62 record. After two controversial years in Los Angeles, the former second overall pick Russell is excited about his fresh start.
"I was surprised," Russell told the media – including Hoops Rumors – today. "I've never really been traded before and I didn't know what to expect."
On his way out of California, Russell was seemingly criticized by Lakers president Magic Johnson, who said he selected Lonzo Ball with the No. 2 pick and traded Russell because he was "looking for a leader." However, Russell dismissed the criticism and expressed his excitement in moving from one big city to another.
"I can't control what they [the Lakers] say. I'm gone so it's the past," Russell said. "Being 21 [years old], living in Los Angeles and coming to New York is not a complaint for me or my family."
As for Mozgov, the 30-year-old Russian joins Brooklyn with three years left on the four-year, $64MM albatross of a contract he signed with the Lakers last season. Mozgov averaged 7.4 PPG and 4.9 RPG in 54 games (52 starts) last season and frequently received DNP-CDs late in the season so that the Lakers could play their youngsters.
The former NBA champion with the 2015/16 Cavaliers is familiar with New York City. Mozgov had a 34-game cameo with the Knicks in 2010/11 before he was traded to Nuggets as part of the deal that brought Carmelo Anthony to New York. In that brief time, then-Knicks assistant coach and current Nets head coach Kenny Atkinson saw the 7'1″ center develop – and believes Mozgov will be an asset in 2017/18.
"Timmy fits perfectly [in our system], he's a competitive player, he's a guy that loves to run the court he's a physical player, and I think he rolls to the rim on pick and roll, which we love," Nets head coach Kenny Atkinson said. "At the end of the day, I love the person…so he fits perfectly in what we're trying to build."
Unless the Nets acquire another center, Mozgov figures to open the 2017/18 season as the starting big man in Brooklyn. The Nets will miss Brook Lopez – who was sent to the Lakers in the trade for the Nets' new duo – and his three-point shooting. After attempting just 31 threes in his first eight years with the Nets, Lopez added a long-range game last season, making almost 35% (134 for 387) of his shots from beyond the arc. Mozgov has attempted 40 treys in his career and made just seven (17.5%) in his career, but will do what is asked of him.
"We'll see if coach lets me shoot. [If he does], I will shoot," Mozgov said. "I'm the guy who does whatever coach tells me to do; if he says shoot from half court, I will shoot from half court."
Trust will be the key for a young Nets team. Russell was at the center of a highly publicized off-court saga with former teammate Nick Young in Los Angeles and his maturity was also questioned. The young point guard has already shown early signs of dedication, posting an Instagram video of him working out at the Nets' practice facility late Sunday morning. Russell also mentioned speaking with Jeremy Lin and other Nets teammates about functioning well next season.
"It's going to take time, not just D'Angelo, but anybody coming into the organization," Brooklyn general manager Sean Marks said. "To develop trust and respect, I think he's well on his way to doing it."
"There's been some criticism and some doubts about him, but we're a positive culture, positive coaching staff," Atkinson added. "We'll hold him accountable and be honest with him and that's how guys better. He's got a clean slate with us."