Every week, Hoops Rumors takes a closer look at players who will be free agents or could become free agents next offseason. We examine if their stock is rising or falling due to performance and other factors. This week, we turn our attention to the Southwest Division:
Dorian Finney-Smith, Mavericks, 25, SF (Down) – Signed to a three-year, $3.4MM deal in 2016
The Mavericks can make Finney-Smith a restricted free agent by extending $1.93MM qualifying offer. That's small change by NBA standards but there's no guarantee they'll do it. Finney-Smith has been a rotation player throughout his third season in the NBA with trades and injuries opening up playing time. He's averaging 7.4 PPG and 4.7 RPG in 24.4 MPG and still hasn't developed a 3-point shot (31.9%), though his defensive ratings are on the plus side. Finney-Smith seems like a second-unit player going forward, whether it's with the Mavs or elsewhere.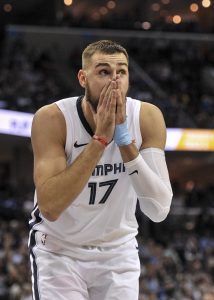 Jonas Valanciunas, Grizzlies, 26, C (Up) — Signed to a four-year, $64MM deal in 2016
Valanciunas was putting up silly numbers with Memphis before a Grade 2 ankle sprain sidelined him for the remainder of the season. He was averaging 19.9 PPG, 10.7 RPG and 1.6 BPG in just 27.7 MPG in 19 games since being traded by the Raptors. Of course, it's easier to do that on a bad team, but it certainly added an element of mystery to Valanciunas' offseason plans. It seemed a safe bet that Valanciunas would exercise his player option for a guaranteed $17.6MM. He might choose now to test the market and gain long-term security, even if he makes a few million less next season.
Iman Shumpert, Rockets, 28, SG (Down) – Signed to a four-year, $40MM deal in 2015
Shumpert made his money with his current contract. He won't be receiving any $11MM-per-year offers this summer. His 2017/18 season was a washout due to knee and foot injuries. He's managed to stay on the court this season but his impact has been minimal. The Kings dealt him to Houston in a three-team trade in February and Shumpert has shot 29% from long range in 18 games with the Rockets. Shumpert's 34% career average from deep is subpar and he's never posted a PER above 12 in any season. He'll likely be looking at veteran's minimum offers this summer.
Stanley Johnson, Pelicans, 22, SF (Down) – Signed to a four-year, $12.85MM deal in 2015
Johnson was a colossal disappointment with the Pistons after a promising rookie campaign. A change of scenery, via a deadline trade, offered Johnson a fresh start. But he hasn't been much better with New Orleans than he was in Detroit. Johnson's strength is his perimeter defense and ability to guard a variety of positions, but he's got to become more of an offensive threat for his career to blossom. The Pelicans can make him a restricted free agent by extending a $4.5MM qualify offer. One of the things their new GM must decide is whether to give the 22-year-old Johnson another year to improve his game.
Rudy Gay, Spurs, 32, PF (Up)– Signed to a one-year, $10.1MM deal in 2018
Quietly, Gay has delivered one of the best seasons of his career. His field-goal percentage and 3-point percentage are career highs. His rebounding average (6.8) is second only to his 7.4 mark in 2013/14, when he played 8.7 more minutes per game. His PER is a rock-solid 17.8. All the more impressive is that Gay tore his Achilles two seasons ago at age 30, an injury from which many players never fully recover. Gay may attract some interest from a contender seeking another veteran piece but the likely scenario is San Antonio rewarding him with a two- or three-year deal.