Throughout the season, Hoops Rumors takes a closer look at players who will be free agents or could become free agents this off-season. With the playoffs ongoing at the Orlando campus, it's time to examine if their stock is rising or falling due to performance and other factors.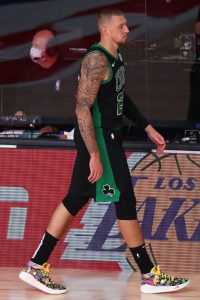 Daniel Theis, Celtics, 28, C (Up) – Signed to a two-year, $10MM deal in 2019
Heading into the playoffs, no one quite knew what the Celtics' big man rotation would look like. There's no doubt right now which center coach Brad Stevens trusts the most. Theis has played heavy minutes when he's been able to stay out of foul trouble. He averaged 30.1 MPG in the seven-game series against the Raptors and was productive (10.1 PPG, 8.3 RPG) while keeping turnovers to a minimum (1.0). He's averaged 33.5 MPG thus far against the Heat. Moreover, the Celtics' staff trusts that Theis can switch onto a variety of players defensively. His $5MM salary for next season isn't guaranteed but it's hard to imagine Boston would let him go.
Marcus Morris, Clippers, 31, PF (Down) – Signed to a one-year, $15MM deal in 2019
Morris had an interesting and controversial journey through free agency last summer. He reneged a two-year agreement with San Antonio and signed a one-year, $15MM pact with the Knicks. When the Clippers acquired Morris at the trade deadline, he was viewed as potentially the final piece to a championship puzzle. The Clippers crashed and burned in part because Morris was a non-factor as the series against the Nuggets wore on. In the last two games, Morris averaged 6.0 PPG and shot 3-for-14 from the field. He was better at being an irritant than a difference-maker. It will be interesting to see if his price tag drops this offseason.
Serge Ibaka, Raptors, 31, PF/C (Up) – Signed to a three-year, $65MM deal in 2017
Ibaka had a strong postseason run while coming off the bench. He averaged 14.8 PPG, 7.7 RPG and 1.3 BPG in 22.8 MPG while making 51.1% of his 3-point attempts. Ibaka turns 31 on Friday but he'll receive his biggest birthday gift in the coming months when the Raptors or some other suitor hands him a lucrative deal. ESPN's Bobby Marks believes he will get full $9.3MM mid-level exception offers from playoff teams without cap space but that Toronto may offer a one-year deal at $18MM to keep him and preserve cap space for next summer.
Monte Morris, Nuggets, 25, PG (Up) – Signed to a three-year, $4.66MM deal in 2018
When Malik Beasley was dealt to the Timberwolves in February, Morris became the clear-cut backup to Jamal Murray. He's been a key piece off the bench during the Nuggets' dream run to the Western Conference Finals. Morris averaged just 16.6 MPG against the Clippers but scored in double digits four times during the series. He's also played smart and poised, making more steals (10) than turnovers (8) in 297 minutes during the first two playoff series. Morris has a $1.66MM non-guaranteed salary for next season. That seems like a very big bargain.
Meyers Leonard, Heat, 28, PF/C (Down) – Signed to a four-year, $41MM deal in 2016
The Heat have received significant contributions from a good chunk of their roster during their surprising carpet ride to the Eastern Conference Finals. Leonard hasn't been among that group. Leonard, who made $11.3MM this season, was a starter until February when he suffered an ankle injury. He's been relegated to cheerleading status during the restart, appearing in two seeding games and one postseason game. He was mainly a second-unit player in Portland before this season and he'll have to compete for a rotation spot wherever he lands next season.