Throughout the season, Hoops Rumors takes a closer look at players who will be free agents or could become free agents this offseason. We examine if their stock is rising or falling due to performance and other factors. With the playoffs in full swing, we take a look at players on teams still alive in the postseason: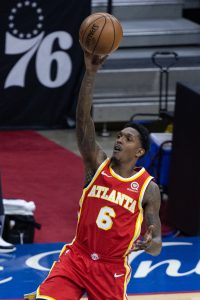 Lou Williams, Hawks, 34, PG/SG (Up) – Signed to a three-year, $24MM deal in 2018
When the Clippers and Hawks swapped veteran point guards at the trade deadline, the general consensus was that Los Angeles pulled off a coup landing Rajon Rondo. It doesn't look that way right now. Rondo has only played nine minutes in the last four games against Utah, while Williams had 15 points, three assists and two steals in 23 minutes during Atlanta's dramatic Game 5 comeback at Philadelphia on Wednesday.
Williams may not possess Rondo's leadership qualities, but he's been instant offense for many seasons wherever he's played. The 34-year-old has been in the league since 2005 but he can stick around a few more seasons due to his offensive prowess.
Jeff Green, Nets, 34, PF (Up) – Signed to a one-year, $2.56MM deal in 2020
It's amazing to think that the Jazz had no use for Green midway through last season and put him on waivers. The Rockets scooped him up and he was highly productive. He's doing the same thing for the Nets. After a solid regular season, Green battled a foot injury that sidelined him for six postseason games. Back in action, Green delivered a monster performance in Game 5 against Milwaukee, firing in 27 points while draining 7-of-8 3-point attempts. Green won't have any trouble finding work as an unrestricted free agent this summer, whether he re-signs with Brooklyn or joins another contender.
Reggie Jackson, Clippers, 31, PG (Up) – Signed to a one-year, $2.33MM deal in 2020
A TNT broadcaster called Jackson "Mr. June" as he made several clutch baskets in Game 5 at Utah on Wednesday. He's not on the level of baseball's "Mr. October" but this Reggie Jackson is proving to be a consistent playoff performer for the Clippers. He averaged 15.4 PPG against Dallas in the opening round, including a 25-point outing in Game 6. He scored 29 points in Game 2 and 22 in Game 5 against the Jazz. Jackson has also kept his turnovers down to a minimum. After having to settle for the veteran's minimum in free agency last year, he's due for a substantial raise when he enters the market again this summer.
Mike Conley, Jazz, 33, PG (Down) – Signed to a five-year, $152.6MM deal in 2016
Conley finally got his first taste of the All-Star Game this season. He got off to an impressive start in these playoffs, scoring 20 or more points in the first three games against Memphis. The injury bug soon bit him as Utah closed out the series and he's been sidelined with a hamstring strain throughout the second round. That's the main concern with Conley as he enters unrestricted free agency – he's had numerous leg injuries in recent seasons. That could limit the amount of years teams will be willing to offer him.