For the rest of the regular season and postseason, Hoops Rumors is taking a closer look at players who will be free agents or could become free agents during the 2023 offseason. We consider whether their stock is rising or falling due to their performance and other factors. Today, we're focusing on a handful of Lakers players.
Note: We also covered a couple other Lakers earlier this month.
---
2022/23: Minimum salary
2023/24: UFA
Stock:

Up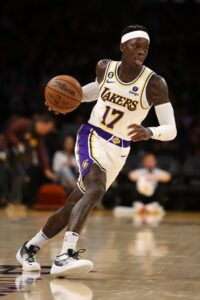 Before the 2022/23 season started, Schröder said he had "unfinished business" with the Lakers after reportedly being unwilling to discuss a lucrative extension in his first stint with the team a couple of seasons ago. The rumored four-year, $80MM offer was never signed, and Schröder instead inked a one-year, $5.9MM contract with Boston in 2021 free agency.
Despite a tepid market in '21, I was surprised it took Schröder so long to find a team last offseason. He didn't sign until September, when he was running the show for Germany during EuroBasket, helping lead his national team to a bronze medal.
A reunion with the Lakers has worked out well for both sides, as Schröder has been one of the league's better bargains on his minimum-salary contract.
The Lakers had an abysmal start this season in part due to injuries to Schröder and Thomas Bryant, who both underwent thumb surgeries right before the season began. The team went just 3-10 in the 13 games they missed (Bryant was traded to Denver at last month's deadline).
Since he returned, Schröder has only missed one game and the Lakers have gone 34-28 with him in the lineup. He leads L.A. in total minutes played and the team has been better on both ends of the court when he's playing — and significantly worse when he's not. He only trails LeBron James, Anthony Davis and Austin Reaves in net rating differential among players with a large sample size.
I've been impressed with Schröder's point-of-attack defense this season. He has also cut down on his turnovers and has generally just been willing to do the little things necessary to win games. He's not a great three-point shooter (33.8%), but he remains extremely quick and is a very good ball-handler who can create shots and draw fouls. Schröder is also highly accurate on free throws, converting 87% of his looks this season – an important factor when trying to close out games.
The Lakers only have his Non-Bird rights, so they will be limited to offering the 29-year-old 120% of the veteran's minimum, which would amount to $3.8MM. If the two sides go that route, it would almost certainly be a one-year deal or a two-year pact with a player option. That would give him Early Bird rights in 2024 and make it easier for the Lakers to give him a more lucrative longer-term contract, if they're so inclined. They could also give him a bigger raise this summer by using one of their exceptions (either the bi-annual or the mid-level).
2022/23: $6.26MM
2023/24: RFA
Stock:

Down
When the Lakers traded three second-rounders (and Kendrick Nunn) to acquire Hachimura, I don't think they envisioned him averaging 9.2 points and playing just 22.3 minutes per night, but that's what he's put up through 27 games.
The former lottery pick is a talented mid-range scorer, but he's sort of a one-trick pony in that his game isn't very well-rounded. His three-point accuracy (33.9%) has been virtually identical to what it was with the Wizards this season (33.7%), which is disappointing.
Hachimura has looked better on defense than I've seen in the past, but it's still merely passable, and he doesn't always play with a lot of energy. His role has been reduced of late, as he received one healthy scratch and averaged 5.3 PPG and 2.5 RPG in the six contests (16.0 MPG) he did play over the past seven games.
Hachimura's $7,744,600 qualifying offer isn't prohibitive, and he's only 25 years old. Are the Lakers really gung-ho about bringing him back? Maybe I'm wrong, but I don't see a huge market for him in restricted free agency based on his relative lack of development over his first four NBA seasons. One report said he might get something around the full mid-level exception, which is projected to start at $11.37MM — I would wish him luck and let him walk at that price.
2022/23: Minimum salary
2023/24: UFA
Stock:

Up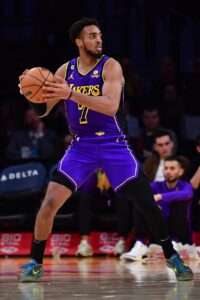 There's nothing about Brown's game that really jumps out at you, nor do his modest numbers — he's averaging 7.3 PPG, 4.1 RPG and 1.2 APG in 70 games (45 starts, 24.9 MPG).
What Brown provides is prototypical size on the wing at 6'6″ and 215 pounds and a strong understanding of the game. He can do a little bit of everything, but doesn't stand out in any one particular area. The 23-year-old is shooting a career-high 37.3% from deep, tries hard on defense, and is an unselfish passer.
Despite giving forth solid effort, Brown isn't the greatest athlete by NBA standards, and is only around league average on defense. He hasn't been much of a scoring threat, but the Lakers only really ask him to shoot when he's open.
As with Schröder, Brown is another player the Lakers added on a minimum deal last summer, so unless they use one of their exceptions, they can only offer him 120% of the minimum using his Non-Bird rights – that would be about $2.77MM.
Could he get more than that from another team? I think something in the $3-6MM range could be in play, but I'm not sure. Either way, he has provided positive value considering his compensation this season, and I would imagine there's motivation from both sides to bring him back – he's getting regular minutes, which wasn't the case the past couple seasons.
2022/23: $15.49MM
2023/24: $16.52MM team option
Stock:

Down
Beasley is a long-range shooting specialist and the Lakers rank just 26th in the league in three-point percentage, which is why they traded for him. The problem is, he's only shooting 35.6% from deep in 2022/23 (34.7% in 20 games with the Lakers), which is his worst conversion rate since he became a rotation regular in '18/19.
The 26-year-old is extremely streaky, and perhaps more than any other player on the team's roster, he was negatively impacted by James' absence due to a foot injury. LeBron has always been great at finding open shooters and Beasley has by far the best track record on the team as a high-volume outside shooter, despite his down season and inconsistency.
Free agents D'Angelo Russell and Reaves will likely higher on the team's priority list this offseason than Beasley, and they won't be cheap. However, it's convenient to have mid-size contracts like Beasley's on the roster, and his specialty is certainly more valuable than Hachimura's.
How Beasley fares for the rest of the season will likely determine whether the Lakers exercise their team option on his deal, because it's a hefty price tag considering he doesn't provide a whole lot else beyond shooting and floor spacing. One report indicated the Lakers were likely to pick the option. They could potentially bring him back at a lower annual cost if they decline it, though there's always a risk another team could swoop in with a better offer in that scenario.