Every week, Hoops Rumors takes a closer look at players who will be free agents or could become free agents next offseason. We examine if their stock is rising or falling due to performance and other factors. This week, we take a look at players from the conference finals:
Patrick McCaw, Raptors, 23, SG (Down) — Signed to a one-year, $786K deal in 2019
McCaw's season has been a head-scratcher. He leveraged his way out of Golden State, signed a non-guaranteed offer sheet with Cleveland, got cut loose shortly thereafter and then signed a minimum contract with Toronto. He may get his wish to be an unrestricted free agent this summer, but no one will be knocking down his door on July 1. He suffered a thumb injury late in the regular season, was ineffective in some postseason appearances, and has missed the last couple of games for "personal reasons." McCaw might not even find a guaranteed offer this summer.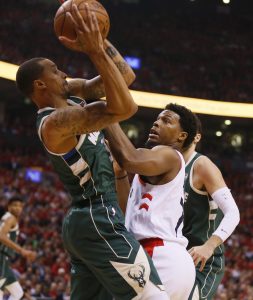 George Hill, Bucks, 33, SG (Up) – Signed to a three-year, $57MM deal in 2017
Hill's $18MM salary becomes guaranteed if he's still on the roster July 1. The Bucks have too many free agent concerns to bring him back at that number, but Hill has reinforced that he's a solid rotation player after a disappointing regular season. Hill averaged 14.2 PPG in the conference semis against Boston. Throwing out his Game 1 clunker against Toronto and he's averaged 13.5 PPG, 6.3 RPG and 2.0 APG over the past four games, hitting some clutch baskets along the way. He'll attract attention on the open market, though he'll have to settle for less than his previous deal.
Alfonzo McKinnie, Warriors, 26, SF (Up) – Signed to a two-year, $2.7MM deal in 2018
Seems like every role player that coach Steve Kerr has thrown out there in the postseason has provided some quality minutes. McKinnie certainly fits that description. He was getting here-and-there minutes, then became more valuable with Kevin Durant sidelined. He grabbed nine rebounds in 21 minutes in Game 3 against Portland, then contributed 12 points in the clinching overtime victory in Game 4. McKinnie has a non-guaranteed salary next year but it's difficult to see him getting cut loose considering the Warriors need to surround their stars with low-cost options. He can be a restricted free agent in 2020 if he receives a qualifying offer.
Enes Kanter, Trail Blazers, 27, C (Down) – Signed to a one-year, $653K deal in 2019
Kanter rode the roller coaster during the playoffs. The Blazers would have never made it to the Western Conference finals without him in the wake of Jusuf Nurkic's injury. Following Game 1 against the Warriors though, Kanter saw limited minutes as coach Terry Stotts opted to ride stretch four Meyers Leonard. Kanter's ability to put up numbers earned him a big contract with the Thunder — recall he was making $18.6MM this season before working out a buyout with the Knicks. But his defensive deficiencies are also apparent in today's NBA. It will interesting to see how much executives value his positives on the open market.
Photo courtesy of USA Today Sports Images.