1:24pm: Confirming that Bogdanovic will undergo season-ending surgery on Tuesday in New York, the Jazz announced in a press release that the procedure will repair a ruptured scapholunate ligament. According to the club, Bogdanovic actually first injured his right wrist "sometime in 2019."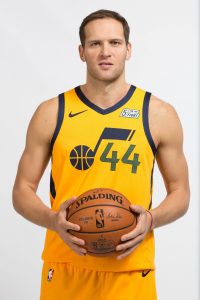 12:40pm: Jazz forward Bojan Bogdanovic will undergo a surgical procedure on his right wrist, according to ESPN's Adrian Wojnarowski, who reports (via Twitter) that the surgery will end Bogdanovic's season. He's expected to be fully recovered for the start of the 2020/21 campaign.
With the remainder of the '19/20 season and the start date for next season still very much up in the air, we don't know exactly what Bogdanovic's recovery timeline will look like. Still, based on Woj's report, it sounds like it'll be a multi-month process, extending through the summer.
As Wojnarowski explains (via Twitter), Bogdanovic injured his right wrist in January and played through it for the rest of the season. Sources tell ESPN that his discomfort re-emerged during the NBA's hiatus, prompting the team to decide to shut him down and have him undergo surgery. The Jazz have an eye toward the long term, since the forward is in the first season of a four-year deal.
Bogdanovic, who is under contract through 2023, will earn $18.7MM annually for the next three years. The 31-year-old enjoyed a career year in his first season with the Jazz, averaging 20.2 PPG, 4.1 RPG, and 2.1 APG with a .447/.414/.903 shooting line in 63 games (33.1 MPG).
Assuming the '19/20 season can be completed, Bogdanovic's injury will put a serious dent in Utah's chances of making a deep playoff run. He was a key part of the club's success this season — the Jazz had a 113.5 offensive rating when Bogdanovic played, compared to just 105.0 when he sat.
Photo courtesy of USA Today Sports Images.