Throughout the season, Hoops Rumors takes a closer look at players who will be free agents or could become free agents this off-season. We examine if their stock is rising or falling due to performance and other factors. This week, we take a look at players from the Northwest Division: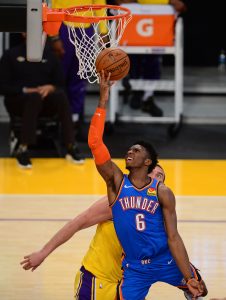 Hamidou Diallo, Thunder, 22, SG (Up) – Signed to a three-year, $3.9MM deal in 2018
Diallo has entered the conversation for the Most Improved Player award. The Dennis Schröder trade to the Lakers opened up a little more playing time for the third-year guard and he has seized the opportunity, nearly doubling his scoring average (12.5 PPG from 6.9 PPG) and also contributing on the boards (5.4 RPG) while making more plays for his teammates (2.5 APG).
Diallo's perimeter shooting remains an issue (28.9% on 3-point attempts) but he's reached double figures in 13 of his last 15 games. He will be a restricted free agent and it will be intriguing to see if another team will overlook his perimeter woes and extend an offer sheet to force the Thunder's hand.
Naz Reid, Timberwolves, 21, C (Up) – Signed to a three-year, $4.2MM deal in 2019
Very little has gone right for Minnesota this season but Reid continues to be a bright spot. The undrafted second-year big man is averaging 12.5 PPG, 4.9 RPG and 1.2 BPG and his 3-point shot is improving (39.7%). Reid had a 29-point performance against OKC and a 23-point outing against the Clippers this month. He filled the stat sheet with 18 points, nine rebounds, three assists and three blocks in an overtime loss to Indiana on Wednesday.
Reid's $1.78MM salary for next season is non-guaranteed; the Timberwolves' front office will have some tough roster decisions to make over the next year but that won't be one of them.
Gary Trent Jr., Trail Blazers, 22, SG (Up) – Signed to a three-year, $3.92MM deal in 2018
Trent, who will be a restricted free agent, emerged as a valuable rotation piece in his second season a year ago. He's become even more important with CJ McCollum sidelined by a foot injury. Trent is averaging 15.3 PPG while knocking down an impressive 44.7% of his 3-point attempts despite taking 7.2 shots per game from deep. He's averaging 19.8 PPG during the team's current six-game winning streak. The Blazers already have $70MM committed to their starting guards next season; can they afford to hold onto Trent if someone lavishes the sharpshooter with a lucrative offer sheet?
Will Barton, Nuggets, 30, SG/SF (Down) – Signed to a four-year, $53MM deal in 2018
Barton has a player option worth $14.67MM for next season and the way he's played this season, he'll have no reason to opt out. Barton missed the summer restart due to a knee injury and hasn't been a consistent factor on a team with championship aspirations. He scored 10 or fewer points in six of his last 10 outings before taking off a few games for personal reasons. His PER for the season is 11.6, well below average. The Nuggets need more from their wings, including Barton, if they want to make another deep playoff run.
Photo courtesy of USA Today Sports Images.