The Hornets, one of the NBA's only teams that still has cap space available, have "strong" interest in a potential offer sheet for Bulls restricted free agent forward Lauri Markkanen, reports Shams Charania of The Athletic (Twitter link).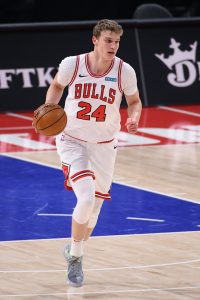 By my unofficial count, Charlotte currently has about $14MM in projected cap room and could increase that number slightly by waiving one or more of the non-guaranteed contracts on the team's books (Cody Martin, Caleb Martin, and Jalen McDaniels). That would likely be enough space to make a competitive bid for Markkanen and put pressure on the Bulls, who have the ability to match any offer sheet he signs.
Chicago will be hard-capped as a result of the club's sign-and-trade deals for Lonzo Ball and DeMar DeRozan. Accommodating a significant salary for Markkanen would potentially push the club into the tax and close to that hard cap. ESPN's Bobby Marks (Twitter link) said following the DeRozan agreement on Tuesday that the Bulls' team salary was about $19.5MM below the tax line and $26MM below the hard cap, with six open roster spots.
The seventh overall pick in the 2017 draft, Markkanen showed a ton of promise during his first two NBA seasons, posting a career-high 18.7 PPG and 9.0 RPG on .430/.361/.872 shooting in 52 games (32.3 MPG) in 2018/19. However, his development trajectory has leveled off since then, as he has battled a series of injuries and given the Bulls up-and-down production.
Still, the Finnish forward is only 24 years old and is a legitimate floor-spacing big man, having knocked down 40.2% of his three-point attempts this past season. Charlotte has plenty of talent in its backcourt (LaMelo Ball, Terry Rozier, James Bouknight) and on the wing (Gordon Hayward, Miles Bridges, P.J. Washington) and may view Markkanen as a nice fit up front.
If the Hornets is worried about a potential offer sheet being matched and the Bulls don't want to risk losing Markkanen for nothing, the two sides could engage in sign-and-trade talks to ensure the seven-footer ends up in Charlotte and Chicago gets a minor asset or two in return for agreeing to let him walk. However, if Markkanen officially signs an offer sheet with the Hornets, a sign-and-trade would no longer be possible.
A restricted free agent can sign an offer sheet during the moratorium period, but the two-day matching clock doesn't begin until the moratorium ends, so there's no rush for Charlotte to get Markkanen to sign on the dotted line today.
For what it's worth, a report earlier this week stated that the Spurs had interest in Markkanen in the DeRozan sign-and-trade, but weren't comfortable meeting his asking price.