Nuggets center Nikola Jokic has won his second straight Most Valuable Player Award, topping the Sixers' Joel Embiid and the Bucks' Giannis Antetokounmpo by a comfortable margin, the NBA announced in a press release.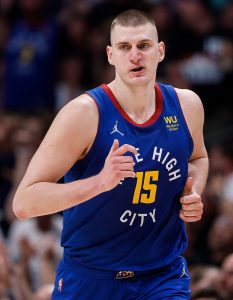 Jokic received 65 first-place votes and 875 total points, putting him well ahead of Embiid, who finished second with 26 first-place votes and 706 points. Antetokounmpo came in third with nine first-place votes and 595 points.
Nobody else received a first-place vote, but Suns guard Devin Booker was fourth with 216 points and Mavericks guard Luka Doncic was fifth at 146 points. With 100 total voters, the balloting system awarded 10 points for a first-place vote, seven points for second, five points for third, three points for fourth and one point for fifth.
Other players receiving votes were the Celtics' Jayson Tatum (43 points), the Grizzlies' Ja Morant (10), the Warriors' Stephen Curry (4), the Suns' Chris Paul (2), the Bulls' DeMar DeRozan (1), the Lakers' LeBron James (1) and the Nets' Kevin Durant (1).
Jokic is the 13th player to win MVP honors in back-to-back seasons. He averaged 27.1 points, 13.8 rebounds and 7.9 assists in 74 games and helped the Nuggets earn the sixth seed in the West despite the absence of Jamal Murray and  Michael Porter Jr. Jokic was named Western Conference Player of the Month twice this season and reached the All-Star Game for the fourth straight year.
ESPN's Adrian Wojnarowski first reported on Monday that Jokic would win the award.