Nuggets center Nikola Jokic has been named the NBA's Most Valuable Player for the second consecutive season, according to Adrian Wojnarowski of ESPN. Sources told Woj that a formal announcement will be made later this week.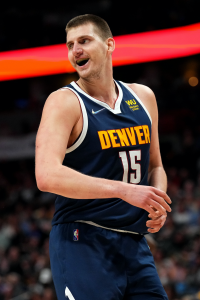 Jokic turned in better numbers in 2021/22 than he did last season, averaging 27.1 points and 13.8 rebounds per game, both career bests. He also ranked eighth in the league at 7.9 assists per game. ESPN notes that he became the first player to ever reach 2,000 points, 1,000 rebounds and 500 assists in the same season.
Jokic's outstanding performance helped Denver remain competitive with Jamal Murray missing the entire season due to a torn ACL and Michael Porter Jr. playing just nine games before undergoing back surgery. Denver managed to post a 48-34 record and grabbed the sixth seed in the West.
The 27-year-old center is the 13th player in history to claim back-to-back MVP honors. Next season he will try to join Larry Bird, Wilt Chamberlain and Bill Russell on an elite list of players to win the award three years in a row.
Bucks star Giannis Antetokounmpo and Sixers center Joel Embiid were the other finalists in this year's MVP voting.