Sixers center Joel Embiid and Nuggets center Nikola Jokic have been named the players of the month for January, per the NBA (Twitter link).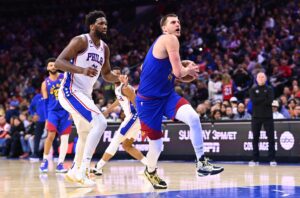 The Sixers went 11-3 last month, including 8-2 when Embiid played. He posted terrific stats, averaging 34.9 points, 10.7 rebounds, 3.2 assists, 1.0 steal and 1.6 blocks on .549/.421/.861 shooting in 33.1 minutes per contest.
The back-to-back MVP runner-up to Jokic, Embiid – who was also December's Eastern Conference player of the month – is leading the NBA in scoring for the second straight season, averaging a career-high 33.5 points through 38 games.
His best performance last month was a comeback victory over Jokic's Nuggets on January 28, recording 47 points, 18 rebounds, five assists, three steals and two blocks on a .581/.571/.700 shooting line.
Philadelphia is currently 33-17, the East's No. 3 seed.
The Nuggets went 12-4 in January, including 10-2 when Jokic was in the lineup. He averaged a ridiculously efficient triple-double, posting 24.0 points, 11.6 boards, 11.3 assists and 1.2 steals on .677/.538/.897 shooting in 33.4 minutes.
Jokic's top performance was arguably a victory over Portland on January 17, when he recorded 36 points, 12 rebounds, 10 assists, one steal and one block. He was 13-of-14 from the field, 1-of-2 from three, and 9-of-10 from the line.
Denver is currently the No. 1 seed in the West with a 35-16 record.
According to the NBA (Twitter link), the other nominees in the West were Anthony Edwards, De'Aaron Fox, Domantas Sabonis, Shai Gilgeous-Alexander, LeBron James, Kawhi Leonard, Damian Lillard and Lauri Markkanen, while Bam Adebayo, Giannis Antetokounmpo, Jalen Brunson, Darius Garland, Kyrie Irving and Jayson Tatum were nominated in the East.