SEPTEMBER 7: Murphy has undergone surgery to repair his slightly torn left meniscus and is expected to miss 10-to-12 weeks, according to ESPN's Adrian Wojnarowski (Twitter link). That timeline would have him back in action around mid-November, Wojnarowski adds.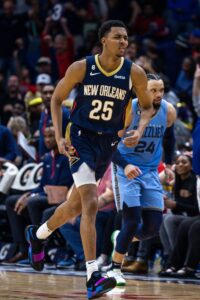 Per a Pelicans press release (Twitter link), Murphy underwent a successful partial meniscectomy and received a biologic injection in his left knee. The release states that Murphy is expected to make a full recovery.
---
SEPTEMBER 5: Pelicans sharpshooter Trey Murphy III has suffered a meniscus injury in his left knee, according to Adrian Wojnarowski of ESPN, who reports (via Twitter) that the injury occurred during a workout on Tuesday.
Murphy will undergo further testing to determine the severity of the injury and the best treatment path, Wojnarowski adds, noting that it's not yet clear whether he'll require surgery.
The 17th overall pick in the 2021 draft, Murphy emerged as a full-time starter for New Orleans in his second NBA season. He averaged 14.5 points and 3.6 rebounds in 31.0 minutes per night across 79 appearances (65 starts), posting an impressive shooting line of .484/.406/.905.
If Murphy has to miss a significant chunk of the season, it would be a major blow for a Pelicans team that would badly miss his shooting. However, we'll have to wait for further updates to get a sense of what sort of recovery timeline the 23-year-old might be facing.
Meniscus injuries can be treated differently depending on the severity. Even if a player has to go under the knife, the recovery timeline varies drastically depending on whether he has his meniscus repaired or removed. Some players have missed most or all of a season while recovering from a meniscus tear, while others have returned within a month or two.
Murphy is entering the third year of his rookie scale contract and will become extension-eligible for the first time during the 2024 offseason. While a big performance this season could benefit him financially, the Pelicans presumably envision him as part of their future and will prioritize his long-term health over his short-term availability.