The Wizards have a new front office regime, but their head coach appears to be safe. According to Ava Wallace of The Washington Post, the Wizards have exercised their option on Wes Unseld Jr.'s contract for 2024/25.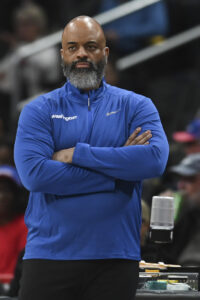 Unseld signed a four-year deal with a team option in the final season when he was hired in 2021. The Wizards have gone 35-47 in each of his two seasons at the helm, a .427 win/loss percentage.
A Maryland native, Unseld got his NBA start with Washington as an assistant. He also had assistant jobs with Golden State, Orlando and Denver before earning his first head coaching job with the Wizards a couple years ago.
There has been some speculation that Unseld might be on the hot seat due to the team's lackluster results in his first two seasons. However, as Wallace writes, with the Wizards in the midst of a rebuild, the new front office has publicly shown support for the 48-year-old head coach.
"Whether it's in selecting players, participating in the conversation vis-à-vis trades, he's just been awesome," president Michael Winger said last week of Unseld. "And from a coaching perspective, he's going to coach his butt off. We know that. He's registered with us countless times how excited he is about this team, how excited he is to figure out — it's going to be really hard for him — but figuring out how to blend those young players with the vets.
"We're going to have streaks. We're going to have ebbs and flows throughout the course of the season. There's no evaluation on that kind of thing. If our young players are getting better, if our vets are contributing, if the culture is in a good place, I think that Wes is doing exactly the job that Wes wants to do."