Grizzlies general manager and executive vice president of basketball operations Zach Kleiman has been voted the 2021/22 NBA Executive of the Year, the league has announced (Twitter link).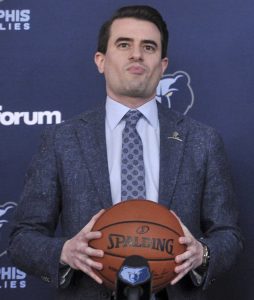 According to the NBA, the 33-year-old Kleiman is the youngest winner of the honor in its history. He's also just the second Grizzlies executive to take home the award, joining Jerry West, who was named Executive of the Year for his work during the 2003/04 season.
Kleiman earned 16 of 29 possible first-place votes from his fellow NBA executives, netting a total of 85 points in his favor from the league's voting system. He previously finished sixth in voting for the 2019/2020 NBA season.
Cavaliers president Koby Altman and Bulls president Arturas Karnisovas earned 27 points apiece, tying for second place as they led a pair of longtime lottery clubs back to the postseason with savvy personnel moves. The Cavs did not advance out of the play-in tournament, and the Bulls lost 4-1 to the Bucks in their first-round matchup.
The top five was rounded out by another tie, as Suns GM James Jones, the 2020/21 NBA Executive of the Year, and Heat president Pat Riley each notched 26 points in voting. Both their top-seeded clubs lead their respective Conference Semifinals series 3-2 as of this writing.
"This is an organizational honor," Kleiman said of the award in a Grizzlies press release. "I wouldn't be in this position without [owner] Robert [Pera]'s vision and support, and I'm grateful to be pursuing NBA championships in Memphis with such a driven and competitive group of players and staff. Thank you to my peers for this recognition."
Thanks in part to the excellent roster-building work of Kleiman, Memphis finished with a 56-26 record in the Western Conference, tying the club's all-time franchise mark for regular season wins. During a condensed 2020/21 season, the Grizzlies finished with a 38-34 record and lost to the Jazz in the first round of the Western Conference playoffs.
Breakout Grizzlies point guard Ja Morant, selected with the second pick out of Murray State in 2019, made his first All-Star team and won the 2021/22 Most Improved Player Award for his work this season. Morant was the first draft pick Kleiman made as the Grizzlies' lead executive, a role he has had since April 2019.
The Grizzlies first hired Kleiman to serve as their in-house legal counsel in 2015. He became assistant GM to under then-lead decision maker Chris Wallace during the 2018/19 season. Kleiman was subsequently promoted following a team re-structuring that moved Wallace to a scouting role.
This award could be honoring Kleiman's long-term rebuilding with Memphis, as he reshaped the roster from one supporting aging stars Marc Gasol and Mike Conley to this new, deep club full of youth and promise around Morant.
Kleiman traded for the draft rights to No. 30 pick Desmond Bane in 2020, who finished fifth this season in Most Improved Player voting behind Morant. He also sagely opted to ink wing Dillon Brooks and big man Jaren Jackson Jr. to lucrative contract extensions during his tenure as front office head. Ahead of the 2021 season, Kleiman traded for center Steven Adams and the rights to rookie Ziaire Williams, the No. 10 pick in the 2021 draft.
Memphis currently trails the Warriors 3-2 in its Conference Semifinals series.
Photo courtesy of USA Today Sports.