JULY 14th, 3:13pm: The signing is official, the team announced.
JULY 1st, 6:00pm: The Grizzlies and Mike Conley have agreed to a max contract that will pay the point guard $153MM over the next five seasons, Marc Stein of ESPN.com reports (Twitter link). The deal will be the largest in league history.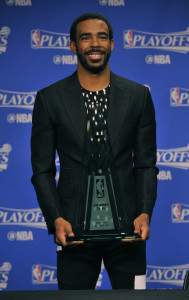 Stein previously reported that Conley and the Grizzlies would have an agreement in place by Saturday morning. Memphis was Conley's likely landing spot all along, but the point guard had concerns about the team's roster and wanted to see the front office be aggressive in its attempts to upgrade it. The team's chances of re-signing the 28-year-old likely increased as a result of signing Chandler Parsons, as the duo reportedly spoken to one another about teaming up in Memphis.
The Mavericks appeared to be Memphis' biggest threat in the Conley sweepstakes, but after Hassan Whiteside re-signed with Miami, it seemed unlikely that the Ohio State product would wind up in Dallas. The Rockets, Pelicans, Nets and Lakers were also identified as challengers to steal Conley away from the Grizzlies. All five teams will have to look elsewhere for a point guard in free agency.
Photo courtesy of USA Today Sports Images.