Nuggets power forward Darrell Arthur has opted into his contract for the 2018/19 season, reports Shams Charania of Yahoo Sports (via Twitter). Arthur will earn a salary of $7,464,912 next year after exercising his player option.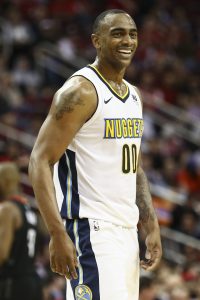 Arthur, 30, enjoyed perhaps the best year of his career in 2015/16, his first season in Denver, when he averaged 7.5 PPG and 4.2 RPG with a .452/.385/.755 shooting line in a rotation role for the team. However, he has seen his playing time cut back significantly over the last two years.
In 2017/18, Arthur appeared in just 19 games for Denver, averaging 2.8 PPG and 0.8 RPG in 7.4 minutes per contest. With Paul Millsap, Trey Lyles, Kenneth Faried, Juan Hernangomez, and Wilson Chandler all seeing time at the four while Nikola Jokic and Mason Plumlee handled the five, there simply wasn't a role for Arthur.
Since Arthur was unlikely to command more than the minimum salary on the open market, his decision to pick up his player option comes as no surprise. It doesn't assure of him spending the 2018/19 season in Denver though.
With the Nuggets potentially looking to lock up Jokic and Will Barton to lucrative new deals this summer, the team will probably need to cut costs elsewhere, making Arthur a candidate to be traded or released. The Nuggets could reduce Arthur's 2018/19 cap charge by nearly $5MM by waiving and stretching him. The club is also said to be exploring trades involving Faried.
Arthur's player-option decision continues an offseason trend that reflects the lack of league-wide cap room available this summer. After only eight total veterans picked up their player options in 2016 and 2017, Arthur becomes the 10th veteran to do so in 2018, and he won't be the last. The full list of player option decisions can be found right here.
Photo courtesy of USA Today Sports Images.