October 28, 4:51pm: The move is official, the Pelicans announced on their website. Smith will be available for tonight's game against the Cavaliers.
October 28, 1:44pm: Smith will sign with the Pelicans Saturday after receiving a letter of clearance, Shams Charania of The Vertical tweets. The letter was required because Smith last played overseas, Bobby Marks of ESPN notes.
October 26, 9:34pm: Smith is in town for the Kings-Pelicans game but didn't end up signing a contract before the game as he had hoped, Marc Spears of The Undefeated tweets. It sounds as if the deal will be finalized on Friday.
October 26, 7:17pm: Smith has flown to Sacramento, hoping to sign a contract with the Pelicans before their matchup with the Kings at 9:30 CST, Marc Spears of The Undefeated tweets.
October 25, 5:51pm: Free agent forward Josh Smith plans to sign with the Pelicans, reports Shams Charania of the Vertical (via Twitter). According to Charania, a corresponding roster move won't be necessary for New Orleans, since the team will be granted an extra roster spot via an injury hardship exception.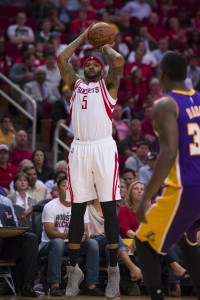 Smith, who will turn 32 in December, didn't play in the NBA at all last season, last appearing in the league during the 2015/16 campaign. He played in 55 total games that year for the Clippers and Rockets, averaging 6.0 PPG and 3.5 RPG in 16.0 minutes per contest, with a career-worst .364 FG%.
In search of an NBA opportunity this year, Smith worked out for the Pelicans in late August. Although that audition didn't lead to anything at the time, New Orleans is now circling back to the former first-round pick in an effort to add some depth to a roster hit hard by injuries.
Currently, the Pelicans are without Solomon Hill, Rajon Rondo, Omer Asik, Frank Jackson, and Alexis Ajinca. Anthony Davis is also banged up for New Orleans — an MRI on his injured knee reportedly showed no structural damage, but that doesn't mean that he'll be able to get back on the court right away.
The Pelicans are eligible for a hardship exception because they have four or more players who have missed at least three consecutive games apiece due to injury or illness. As Bobby Marks of ESPN notes (via Twitter), Smith qualifies for that 16th spot on the roster because he's signing a non-guaranteed deal. With Smith set to join a group that already includes Rondo, DeMarcus Cousins, and Tony Allen, the Pelicans' roster will feature some of the NBA's most interesting personalities.
Photo courtesy of USA Today Sports Images.