3:09pm: The Pacers have officially confirmed that they're declining Stephenson's option.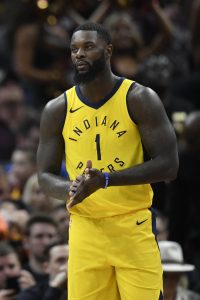 "This was a very difficult decision, but as free agency begins on July 1, we want to have flexibility so that we can prepare for all of our available options," president of basketball operations Kevin Pritchard said in a statement.
2:23pm: The Pacers won't exercise their 2018/19 team option on Lance Stephenson, reports Shams Charania of Yahoo Sports (via Twitter). By turning down the option, Indiana will save $4.36MM and will allow Stephenson to reach the free agent market.
Stephenson averaged 9.2 PPG, 5.2 RPG, and 2.9 APG for the Pacers in 2017/18, appearing in all 82 games. While his shooting numbers (.427/.289/.661) were all below his career marks, it's still a little surprising to see Stephenson's option declined — his option salary was fairly modest, and he was part of Indiana's rotation for the entire regular season and postseason.
Still, the Pacers are in position to open up some cap room this summer, so parting ways with Stephenson will allow them to maximize their space. According to ESPN's Chris Haynes (via Twitter), the club has its eye on free agents like Will Barton and Tyreke Evans. Marcus Smart has also been cited as a potential target. If Indiana is unable to sign an impact free agent, the team could also use its cap flexibility to accommodate a trade.
The Pacers' precise cap outlook for 2018/19 remains somewhat up in the air, as the team has several non-guaranteed salaries and options on its books for next season. Reports have indicated that Indiana is expected to retain Bojan Bogdanovic and Darren Collison, who each have partial guarantees on their $10MM salaries. Al Jefferson also has a partially guaranteed deal, while Thaddeus Young is still weighing his decision on his $13MM+ player option.
In the unlikely event that Jefferson and other players on smaller non-guaranteed salaries are cut and Young turns down his option to sign elsewhere , the Pacers could create upwards of $30-35MM in cap room, though that scenario seems unlikely.
Photo courtesy of USA Today Sports Images.