MARCH 13: The Rockets have officially converted House's two-way deal into a standard NBA contract, the club announced today in a press release. House can now rejoin the club and will be eligible for the postseason.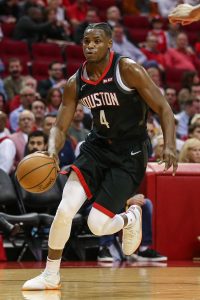 MARCH 12: The Rockets will fill one of the openings on their 15-man roster by converting Danuel House's two-way contract to a standard NBA deal, according to Shams Charania and Kelly Iko of The Athletic (Twitter link). The move will ensure Houston gets back up to 14 players, the league-mandated minimum, for the time being.
House, 25, signed a two-way deal with Houston back in December and emerged as a reliable rotation piece for the club, averaging 9.0 PPG and 3.6 RPG on .458/.390/.818 shooting in 25 games (24.8 MPG). But because two-way players can only spend a certain amount of time in the NBA, House hasn't appeared in a game for the Rockets since January 14, when he reached that limit.
The two sides tried to reach a new contract agreement at that time, with the Rockets reportedly offering House a guaranteed three-year, minimum-salary deal. However, House and his agent Raymond Brothers wanted the club to simply convert the swingman's two-way contract into a rest-of-season deal, which a team can do unilaterally. That would allow House to reach restricted free agency at season's end.
[RELATED: Examining stalemate between Rockets, Danuel House]
The Rockets initially resisted, but now that the team is gearing up to go "all-in" for a playoff run, management has prioritized getting House back in the fold rather than worrying about his offseason free agency, writes Jonathan Feigen of The Houston Chronicle.
Brothers thanked the Rockets and GM Daryl Morey for discussing a multiyear deal and suggested that he hoped to resume those talks in the summer, per Mark Berman of FOX26 Houston (Twitter link). Assuming Houston issues a qualifying offer to House, the club will have the ability to match an offer sheet up to a certain amount using his Non-Bird rights.
If the Rockets officially convert House's contract on Wednesday, he'd earn approximately $248K during the season's final month. As for the team's roster situation, adding House to the 15-man squad would give Houston 14 players, but Terrence Jones' 10-day deal is set to expire later this week. As such, the Rockets would have to eventually re-sign Jones or add a new 14th man to get back up to the minimum.
Photo courtesy of USA Today Sports Images.