AUGUST 6: The Jazz have made it official with Whiteside, announcing his deal in a press release.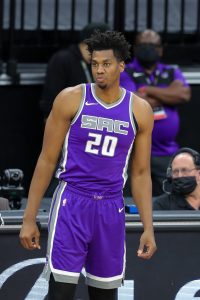 "Hassan is one of the more physically gifted players in the game today and has a vast amount of valuable professional basketball experience," Jazz GM Justin Zanik said in a statement. "We're excited to add someone with his skillset and feel he's a great fit with our current roster."
---
AUGUST 3: The Jazz have agreed to a deal with free agent center Hassan Whiteside, reports ESPN's Adrian Wojnarowski (via Twitter).
Whiteside is coming off his least productive season in seven years, having averaged 8.1 PPG, 6.0 RPG, and 1.3 BPG in 36 games (15.2 MPG) for Sacramento, but he remains a solid shot-blocker and rebounder, especially as a backup center.
The 32-year-old seven-footer signed a one-year deal with the Kings last year but could never get fully on track with his new team. The Jazz will be hoping that in Quin Snyder's system, backing up All-NBA center Rudy Gobert, Whiteside will be able to turn things around.
The Jazz recently traded reserve center Derrick Favors to the Thunder in a cost-cutting move, and Whiteside gives them some level of schematic continuity coming off the bench.
The Jazz are believed to be limited to minimum-salary deals after committing their taxpayer mid-level exception to Rudy Gay, so Whiteside's deal figures to be worth the veteran's minimum.