FEBRUARY 3: Stephenson has signed with the Pacers for the rest of the season, according to Scott Agness of Fieldhouse Files and Stephenson's agency, Priority Sports (Twitter links). Agness confirms (via Twitter) that the deal won't cover multiple seasons, so the veteran swingman will be a free agent this summer.
---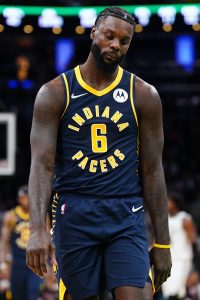 FEBRUARY 2: The Pacers will sign Lance Stephenson for the remainder of the season, tweets Shams Charania of The Athletic. Stephenson's latest 10-day contract expired on Wednesday night.
Stephenson came to Indiana at the beginning of January on a pair of 10-day hardship deals while the team dealt with a COVID-19 outbreak. When those expired, he signed two standard 10-day contracts. In total, he has appeared in 17 games, averaging 9.4 points and 4.2 assists per night.
Stephenson isn't eligible to sign another standard 10-day deal with the team this season. Marc Stein of Substack notes that he could have inked another hardship contract as long as Domantas Sabonis remains in the league's health and safety protocols (Twitter link). However, if Sabonis were to exit before the 10 days are up, Stephenson would be ineligible to play.
The Pacers have known for some time that they were going to sign Stephenson for the rest of the season, Stein tweets. There has been discussion about keeping a roster spot open for added flexibility heading into next Thursday's trade deadline, so we'll have to wait to see when Stephenson's contract becomes official.