The Pacers have signed Lance Stephenson to a second standard 10-day contract, the team announced today in a press release. It's Stephenson's fourth overall 10-day deal with Indiana this season, since he also inked two hardship contracts with the club.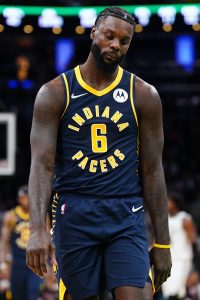 Stephenson, 31, quickly became a regular rotation player for the Pacers after first rejoining the organization on January 1. He has appeared in 11 games so far, averaging 9.5 PPG, 3.6 APG, and 2.5 RPG on .462/.281/.800 shooting in 19.0 minutes per contest.
There was an expectation at one point earlier this month that Indiana would lock up Stephenson for the rest of the season, but the team has opted to continue the relationship 10 days at a time for now. That allows the Pacers to remain flexible with their roster ahead of the February 10 trade deadline.
A player typically isn't allowed to sign more than two 10-day contracts with the same team in a given league year, but that restriction only applies to standard 10-day agreements, not to those completed using a COVID-related hardship exception.
While several players have signed three 10-day deals with the same club so far this season, Stephenson is the first to get a fourth. He signed hardship contracts on January 1 and January 11, then completed a new standard 10-day deal on January 14 so that he could remain active when the Pacers no longer had any players in the health and safety protocols — that contract expired on Sunday night.
Because this is Stephenson's second standard 10-day deal, the Pacers will face a decision on his future soon. Assuming Indiana doesn't have any players in the protocols when his new contract expires next week, Stephenson would have to be signed for the rest of the season or let go.