After making the playoffs for 22 straight seasons, the Spurs finished with middling 32-39 and 33-39 records in 2019/20 and '20/21, seemingly reluctant to overhaul their veteran roster.
They finally leaned into a youth movement last offseason when they sent DeMar DeRozan to Chicago in a sign-and-trade deal, and fully committed to that retooling process during the season. Historically averse to wheeling and dealing during the season, the Spurs were uncharacteristically active in 2021/22, making four pre-deadline trades, including one that sent Derrick White – one of their longest-tenured players – to Boston.
The end result – a 34-48 record and a quick exit in the play-in tournament – wasn't that different from the two years prior, but the Spurs seem to have a more clear-cut direction going forward, as they build around All-Star guard Dejounte Murray and a collection of young talent that includes 2021 first-round pick Joshua Primo and extension-eligible forward Keldon Johnson.
---
The Spurs' Offseason Plan: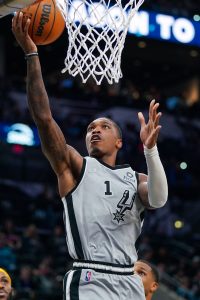 The Spurs will have a handful of decisions to make this summer on players eligible for free agency and players who have non-guaranteed contracts for next season.
Lonnie Walker, the team's most notable free agent, had an up-and-down 2021/22 showing after enjoying a mini-breakout in '20/21. A career 36.9% three-point shooter entering the season, Walker made a career-worst 31.4% attempts from beyond the arc, though he did establish a new career-high with 12.1 points per game.
Armed with plenty of cap flexibility and the right of first refusal, the Spurs are in a position to re-sign Walker if they want to, but they'll have to determine whether or not he fits into their long-term plans, given all the other wings on the roster. Primo, Johnson, and Devin Vassell look for now like keepers, while Josh Richardson and Romeo Langford are in the mix on the wing for the time being, though they'll both be entering contract years.
The Spurs have shown a willingness to give their first-round picks a second contract even if those players haven't yet fully realized their potential, and sometimes it pays off, as in the case of Murray, a Most Improved Player runner-up in his sixth season. But the team could open up significant cap room by letting go of Walker and his $13MM+ cap hold. I expect they'll at least extend him a qualifying offer and then see if he draws much interest elsewhere before making a final decision.
Devontae Cacok and Joe Wieskamp, who received in-season promotions from two-way deals to standard contracts, are also free agents, but they likely won't be in line for more than minimum salaries if they re-sign.
The Spurs seem like a good bet to bring back most or all of their players on non-guaranteed contracts, including Zach Collins, whose $7.35MM salary is already half guaranteed — he showed enough in his return from multiple foot surgeries to warrant a longer look. Keita Bates-Diop, Tre Jones, and Jock Landale have non-guaranteed minimum deals and should be back unless San Antonio wants to open up an extra roster spot or two.
While parting with Walker would open up significant cap room for the Spurs, they haven't typically been major players in free agency and could use any space they do have to take on an unwanted contract or two along with a draft pick, as they did during the season with Goran Dragic and Tomas Satoransky. Still, it's worth noting that San Antonio has the flexibility to be a legitimate threat for a Miles Bridges-type restricted free agent if there's a specific player the front office likes.
The most exciting night of San Antonio's offseason might come on June 23 — no team holds more first-round picks or more overall selections than the Spurs, who currently control Nos. 9, 20, 25, and 38. Those picks will create a ton of options for the front office, which may not be inclined to add three or four rookies to the roster for 2022/23. Moving up, moving down, trading a first-rounder for future picks, or making a trade involving a handful of picks and players are all possibilities the club will likely entertain.
Assuming the Spurs remain at No. 9, it will be interesting to see what type of prospect they target. Last year's selection of Primo at No. 12 was a roll of the dice on a player who has tremendous long-term upside but was the youngest in his draft class. If the team takes that approach again this year, it could mean taking a chance on a player like Jalen Duren, Dyson Daniels, or Ousmane Dieng.
Finally, the ever-present question of Gregg Popovich's future looms over every move the Spurs make. Popovich, who has been San Antonio's head coach since 1996, is probably nearing the end of the road, but the deeper we get into the offseason, the more likely it is that he'll be back for at least the 2022/23 campaign. Making sure there's a strong succession plan in place for his eventual retirement will be a top priority for a franchise that has been a paragon of stability during the Popovich years.
---
Salary Cap Situation
Note: Our salary cap figures are based on the league's latest projection ($122MM) for 2022/23.
Guaranteed Salary
Dejounte Murray ($16,571,120)
Doug McDermott ($13,750,000)
Josh Richardson ($12,196,094)
Jakob Poeltl ($9,398,148)
Romeo Langford ($5,634,257)
Devin Vassell ($4,437,000)
Joshua Primo ($4,144,320)
Keldon Johnson ($3,873,025)
Zach Collins ($3,675,000) — Partial guarantee. Rest of salary is noted in non-guaranteed section below. 1
Total: $73,678,964

Player Options
Team Options
Non-Guaranteed Salary
Zach Collins ($3,675,000) 1
Keita Bates-Diop ($1,878,720) 2
Tre Jones ($1,782,621) 3
Jock Landale ($1,563,518)
Total: $8,899,859
Restricted Free Agents
Lonnie Walker ($6,311,564 qualifying offer / $13,343,688 cap hold): Bird rights
Devontae Cacok ($2,076,674 qualifying offer / $2,076,674 cap hold): Non-Bird rights
Joe Wieskamp ($1,816,044 qualifying offer / $1,816,044 cap hold): Non-Bird rights
Total (cap holds): $17,236,406

Two-Way Free Agents
Draft Picks
No. 9 overall pick ($4,995,720)
No. 20 overall pick ($2,886,480)
No. 25 overall pick ($2,353,560)
No. 38 overall pick (no cap hold)
Total: $10,235,760
Extension-Eligible Players
Note: These are players who are either already eligible for an extension or will become eligible before the 2022/23 season begins.
Keldon Johnson (rookie scale)
Tre Jones (veteran)
Romeo Langford (rookie scale)
Dejounte Murray (veteran)
Jakob Poeltl (veteran)
Unrestricted Free Agents / Other Cap Holds
Offseason Cap Outlook

If we assume the Spurs bring back all their players on non-guaranteed contracts and hang onto their three first-round picks, they'll have a projected $29MM+ in cap space.
That number would further increase if not all of those non-guaranteed players are back or if San Antonio trades one of its first-round picks for future assets. However, it could be cut nearly in half if retaining Walker is a priority, since he'll have a $13MM+ cap hold until he signs a new deal.
Cap Exceptions Available
Room exception: $5,329,000 4
Footnotes
Collins' salary will become fully guaranteed after June 24.
Bates-Diop's salary will become fully guaranteed after the first day of the regular season.
Jones' salary will become partially guaranteed ($500K) after August 1 and fully guaranteed after the first day of the regular season.
This is a projected value.
---
Salary and cap information from Basketball Insiders and RealGM was used in the creation of this post.