After injuries scuttled not just the Warriors' title hopes but their playoff aspirations in 2020 and 2021, it took a while for the team to get back to full strength in 2021/22. Klay Thompson missed the first third of the season, Draymond Green went down right around the time Thompson made his debut, and Stephen Curry got hurt one game after Green returned. Incredibly, the Warriors' three veteran stars played just 11 minutes together during the regular season.
It didn't matter. Even without their full arsenal of weapons, the Warriors stormed out of the gate by winning 18 of their first 21 games and spent the entire season holding onto one of the Western Conference's top four seeds, ultimately finishing at No. 3.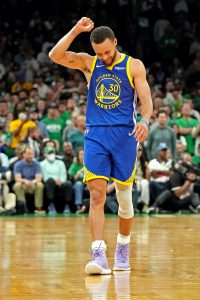 In the playoffs, the Warriors were finally back at full strength (Curry, Thompson, and Green played 455 postseason minutes together), and while they may not have been quite as dominant as they were with Kevin Durant in the picture in 2017 and 2018, they once again looked like a championship-caliber team.
Golden State made quick work of the shorthanded Nuggets, held off the upstart Grizzlies, and slowed Luka Doncic enough to shut down the Mavericks and reach the NBA Finals, where they came back from a 2-1 deficit to defeat the Celtics and secure their fourth championship in the last eight years.
Having faced scrutiny for maintaining a monster payroll and opting not to trade any of their young prospects or lottery picks for win-now help during their non-playoff seasons, the Warriors were vindicated by their 2021/22 success and won't be satisfied to stop there. Management is hopeful that youngsters like James Wiseman, Jonathan Kuminga, and Moses Moody will be ready to carry the torch and keep the team in title contention in the coming years as Curry, Green, and Thompson enter their mid-30s.
---
The Warriors' Offseason Plan:
Two key Warriors role players are unrestricted free agents this summer, with Kevon Looney and Gary Payton II set to reach the open market.
Looney bounced back from a couple injury-plagued seasons to start 80 regular season games (and play in all 82) for the Warriors and proved his value as a versatile frontcourt defender who can play alongside offensive weapons without needing the ball himself. Looney's stats don't jump off the page, but centers who can stay on the court in playoff series against a variety of lineups are valuable assets in today's NBA, so he'll likely draw mid-level interest from teams in need of frontcourt help.
Payton, meanwhile, emerged as an important rotation piece in Golden State after a few years of brief minimum-salary auditions around the NBA. Like Looney, Payton doesn't need the ball much on offense, but benefited from the attention defenses dedicated to players like Curry, Thompson, and Jordan Poole, making well-timed cuts to the basket and shooting 61.6% from the floor, an impressive mark for a guard. Of course, his primary contributions came on the defensive end, where he followed in his father's footsteps by becoming one of the league's top perimeter defenders.
Assessing the market for Looney and Payton is tricky, since they fit better in their defined roles with the Warriors than they might with a new team. Golden State has the cap flexibility to make competitive offers to both players – the team holds Looney's Bird rights and Payton's Early Bird rights – but the tax implications of giving either player a sizable raise would be substantial. If Looney and Payton don't accept "hometown" discounts to stay in the Bay Area, it will be fascinating to see how high the Dubs are willing to go to retain them.
If Looney and Payton return, the Warriors would have seven of their eight most-used players from the postseason under contract for next season, with only Otto Porter Jr. facing free agency. The club did well to secure Porter and Nemanja Bjelica to minimum-salary contracts last summer, but Porter in particular will probably get an offer from another team that the Warriors can't realistically match, since they only have his Non-Bird rights.
I suspect Golden State would welcome players like Porter, Bjelica, and Damion Lee back on minimum deals, but if the price goes any higher, the team may have to look elsewhere to fill those roster spots, perhaps trying to strike gold on the minimum-salary market again.
The Warriors hold the No. 28 overall pick in this year's draft, but are reportedly looking into trading that pick, which makes sense. If they expect Wiseman, Kuminga, and Moody to take on greater roles next season, the Warriors don't need to add another rookie to the mix, and they'd save some money by carrying another minimum-salary player instead of that first-rounder. Shopping the 28th pick to either acquire multiple second-rounders or a future protected first-rounder seems reasonable.
Besides addressing the potential holes in their 2022/23 rotation, the Warriors will have to start seriously thinking about the long-term futures of players like Poole and Andrew Wiggins. Poole is eligible for a rookie scale extension this offseason, while Wiggins is also extension-eligible as he enters a contract year.
Both Poole and Wiggins played important roles on this year's title team and should be rewarded for that, but the Warriors are under no pressure to rush into a deal with either player. Neither player's value is likely to get significantly higher during the 2022/23 season, so Golden State is in position to wait another year and assess its options at that point if either player drives a hard bargain during this year's negotiations. But if the Warriors can get a team-friendly rate on either player – maybe $18-20MM per year for Poole or $23-25MM annually for Wiggins – they shouldn't hesitate to complete an extension.
Green and Thompson are also extension-eligible this offseason, and if either player is extended in the coming weeks or months, I'd expect it to be Green — Thompson has two guaranteed years left on his contract and didn't quite look like his old self on a consistent basis in 2021/22. There will be no urgency to give him another maximum-salary extension that begins at age 34 without seeing next season if he still has that All-Star level in him.
Green, on the other hand, has just one guaranteed year left, with a player option for 2023/24. He continues to provide value on both ends of the court despite not being a scoring threat, and I imagine the Warriors will want to do right by him, given that he has earned far less than Curry and Thompson (and Wiggins, for that matter) in recent years. Still, the Warriors won't simply write him a blank check — if he picks up his '23/24 option, a max extension would start at $33MM+ in his age-34 season, which may make the club nervous.
---
Salary Cap Situation
Note: Our salary cap figures are based on the league's latest projection ($122MM) for 2022/23.
Guaranteed Salary
Stephen Curry ($48,070,014)
Klay Thompson ($40,600,080)
Andrew Wiggins ($33,616,770)
Draymond Green ($25,806,468)
James Wiseman ($9,603,360)
Jonathan Kuminga ($5,739,840)
Jordan Poole ($3,901,399)
Moses Moody ($3,740,160)
Total: $171,078,091

Player Options
Team Options
Non-Guaranteed Salary
Restricted Free Agents
Two-Way Free Agents
Draft Picks
No. 28 overall pick ($2,196,240)
No. 51 overall pick (no cap hold)
No. 55 overall pick (no cap hold)
Total: $2,196,240
Extension-Eligible Players
Note: These are players who are either already eligible for an extension or will become eligible before the 2022/23 season begins.
Draymond Green (veteran)
Jordan Poole (rookie scale)
Klay Thompson (veteran)
Andrew Wiggins (veteran)
Unrestricted Free Agents / Other Cap Holds
Kevon Looney ($9,839,287 cap hold): Bird rights
Matt Barnes ($1,811,516 cap hold): Non-Bird rights 1
Nemanja Bjelica ($1,811,516 cap hold): Non-Bird rights
Andrew Bogut ($1,811,516 cap hold): Non-Bird rights 1
Andre Iguodala ($1,811,516 cap hold): Non-Bird rights
Jonas Jerebko ($1,811,516 cap hold): Non-Bird rights 1
Damion Lee ($1,811,516 cap hold): Bird rights
Gary Payton II ($1,811,516 cap hold): Early Bird rights
Otto Porter Jr. ($1,811,516 cap hold): Non-Bird rights
David West ($1,811,516 cap hold): Early Bird rights 1
Nico Mannion ($1,616,044 cap hold): Non-Bird rights 1
Total: $27,758,975
Offseason Cap Outlook

With $171MM in guaranteed money already committed to eight players, the Warriors are a lock to be operating above the projected tax line of $149MM next season. The only question will be how big their bill gets. By our count, they spent more than $345MM (in salaries and taxes) on their 2021/22 roster, and that number looks like a good bet to increase going forward.
Cap Exceptions Available
Taxpayer mid-level exception: $6,392,000 2
Trade exception: $1,782,621
Footnotes
These cap holds remain on the Warriors' books from prior seasons because they haven't been renounced. These players can't be used in a sign-and-trade deal.
This is a projected value.
---
Salary and cap information from Basketball Insiders and RealGM was used in the creation of this post.