After winning at least one playoff series for three consecutive years from 2019-21, the Nuggets were eliminated in the first round of the 2022 postseason in just five games. They subsequently opened the 2022 offseason by losing their longtime president of basketball operations, Tim Connelly, to the division-rival Timberwolves.
While it may have looked from the outside like the Nuggets were facing an identity crisis, there was no panic within the organization. Connelly's top lieutenant, Calvin Booth, was promoted to run the front office, and he opted not to make any drastic changes to the roster, betting that a few tweaks – along with the anticipated returns of injured starters Jamal Murray and Michael Porter Jr. – would be enough to make Denver a legitimate title threat.
After signing Bruce Brown in free agency and trading guards Monte Morris and Will Barton to Washington for a package headlined by three-and-D wing Kentavious Caldwell-Pope, the Nuggets got off to a strong start last fall and maintained their pace for months, holding the No. 1 seed in the Western Conference from December 20 until the end of the regular season.
Denver faltered just once, losing 10 of its last 17 games entering the postseason, which raised some concerns about whether the team was prepared to make a deep playoff run. But the Nuggets quickly silenced any doubts, winning 16 of their next 20 games and capping a dream season with the first championship in franchise history.
While Booth won't be able to rest on his laurels this summer following an unimpeachable first year on the job, he's the only NBA general manager who will be entering the offseason looking to keep a championship team intact rather than seeking ways to upgrade a roster that fell short of that goal.
---
The Nuggets' Offseason Plan
The same group of players that wins a championship one year is hardly guaranteed to win another the following season, but it still has to be encouraging for Booth and the front office that nearly the entire core of the 2022/23 Nuggets remains under contract for next season.
Nikola Jokic, Murray, Porter, Aaron Gordon, and Caldwell-Pope, each of whom started all 20 playoff games for Denver and averaged at least 32 minutes apiece, have guaranteed contracts for next season, with all but Caldwell-Pope under team control for multiple years (KCP has a 2024/25 player option).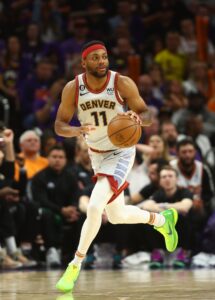 With that foundation in place – and up-and-coming role players like Christian Braun and Peyton Watson locked up for several more seasons – the Nuggets can focus this summer on their supporting cast, starting with Brown, a jack-of-all-trades who was the club's most-used reserve in the postseason.
Because Denver got such a bargain on Brown's contract a year ago, the team will be limited in its ability to give him a raise for 2023/24, assuming the veteran guard declines his $6.8MM player option. The Nuggets will hold his Non-Bird rights, allowing them to offer up to 120% of his $6.48MM salary from this past season.
Brown will almost certainly get offers that feature a starting salary higher than the $7.77MM Denver can give him, but that doesn't mean he's a lock to sign elsewhere. The 26-year-old spoke in the wake of the Nuggets' title win about his desire to remain with the team, suggesting that "money isn't everything."
And as we noted at the time, there's a precedent for a player with Non-Bird rights accepting a below-market deal from a team he won a title with, then getting a raise on a long-term deal the following year when he has Early Bird rights. Bobby Portis took this route with the Bucks after the team's 2021 championship.
If the Nuggets bring back Brown on a Non-Bird contract, it would push the team's guaranteed salaries close to $171MM for 10 players, which would – barring a cost-cutting move – make it nearly impossible to use the full taxpayer mid-level exception ($5MM) and stay below the projected second tax apron ($179.5MM), since they'll need to carry at least 14 players.
If Brown departs in free agency, that taxpayer MLE would be in play. It wouldn't necessarily need to be used on someone who will assume Brown's exact role, since the Nuggets are reportedly confident in Braun's and Watson's ability to play more backcourt minutes next season. If they have the MLE available, the Nuggets could look to add depth at virtually any position, including backup center.
Among the team's unrestricted free agents, Thomas Bryant and Reggie Jackson didn't play major roles after being acquired in February and may not be great bets to return. However, it wouldn't be a surprise if the team makes an effort to bring back Jeff Green and/or Ish Smith.
Green, in particular, was part of the postseason rotation and has spoken about wanting to finish his career in Denver. And it seems safe to assume Smith would rather stick with the defending champions than join the 14th NBA team of his career if the Nuggets are willing to bring him back.
The Nuggets, having already agreed to a trade with the Thunder earlier this month, will also control a pair of second-round picks at No. 37 and No. 40, which should be used to help fill out next season's roster in some form or another.
There have been rumblings that Denver is looking into the possibility of trading into the first round, using some combination of this year's second-rounders and a future first-rounder. If that doesn't happen, it's not the end of the world — there will still be solid prospects available in the 37-40 range, and those players would cost less toward the Nuggets' 2023/24 tax bill than minimum-salary veterans or a first-round rookie would.
With few changes expected to Denver's roster this summer, the club's most significant offseason move could be signing Murray to an extension, since he'll be eligible for a new deal as of July 24. It wouldn't be a surprise if the two sides decide to put that off for another year though. Murray remains under contract for two more seasons and could qualify for a super-max extension if he makes an All-NBA team in either of those two years.
---
Salary Cap Situation
Guaranteed Salary
Nikola Jokic ($46,900,000)

Note: Jokic's salary will be 35% of the 2023/24 salary cap. This is a projection based on a $134MM cap.

Jamal Murray ($33,833,400)
Michael Porter Jr. ($33,386,850)
Aaron Gordon ($22,266,182)
Kentavious Caldwell-Pope ($14,704,938)
Zeke Nnaji ($4,306,281)
Christian Braun ($2,949,120)
Peyton Watson ($2,303,520)
Vlatko Cancar ($2,234,359)
Total: $162,884,650

Dead/Retained Salary
Player Options
Team Options
Non-Guaranteed Salary
Restricted Free Agents
Two-Way Free Agents
Draft Picks
No. 37 overall pick (no cap hold)
No. 40 overall pick (no cap hold)
Extension-Eligible Players
Jamal Murray (veteran)
Zeke Nnaji (rookie scale)
Note: These are players who are either already eligible for an extension or will become eligible before the 2023/24 season begins.

Unrestricted Free Agents / Other Cap Holds
Ish Smith ($6,142,500 cap hold): Early Bird rights
Jeff Green ($5,850,000 cap hold): Early Bird rights
Thomas Bryant ($1,989,698 cap hold): Non-Bird rights
Reggie Jackson ($1,989,698 cap hold): Non-Bird rights
DeAndre Jordan ($1,989,698 cap hold): Non-Bird rights
DeMarcus Cousins ($1,989,698 cap hold): Non-Bird rights
Troy Daniels ($1,989,698 cap hold): Non-Bird rights
Richard Jefferson ($1,989,698 cap hold): Non-Bird rights
Markus Howard ($1,774,999 cap hold): Early Bird rights
Total: $25,705,687
Note: The cap holds for the players listed in italics remain on the Nuggets' books from prior seasons because they haven't been renounced. They can't be used in a sign-and-trade deal.
Cap Exceptions Available
Taxpayer mid-level exception: $5,000,000
Trade exception: $9,125,000
Trade exception: $3,475,000

Note: Expires on June 23.

Trade exception: $2,201,520
Trade exception: $1,902,133
Trade exception: $370,297
Note: The Nuggets would lose the taxpayer mid-level exception if their team salary is above the second tax apron; they would gain access to the full mid-level exception and the bi-annual exception if their team salary remains below both tax aprons.