JULY 6: The Pacers have made it official with Smith, according to NBA.com's transactions log. Head coach Rick Carlisle said today at a media session that the plan is for Smith to be Indiana's starting power forward in the fall (Twitter link via Scott Agness of Fieldhouse Files).
---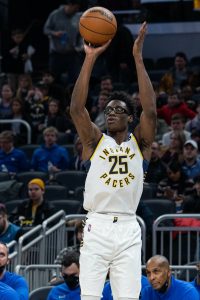 JULY 1: Free agent big man Jalen Smith has agreed to a two-year contract with the Pacers and will return to Indiana, sources tell Shams Charania of The Athletic (Twitter link).
Smith's new two-year deal is worth $9.6MM, per ESPN's Adrian Wojnarowski. That's approximately the maximum amount the Pacers could offer over two seasons.
The 10th overall pick in 2020, Smith barely saw any action as a rookie in Phoenix in 2020/21, then found himself out of the Suns' plans. They turned down his third-year rookie scale option for 2022/23 at the start of last season and traded him to Indiana at this year's deadline.
With the lottery-bound Pacers, Smith began to flash the upside that made him a lottery pick two years ago, averaging 13.4 PPG, 7.6 RPG, and 1.0 BPG on .531/.373/.760 shooting in a part-time role (24.7 MPG).
There was a sense that Smith may be playing himself out of the Pacers' price range — even though they hold his Bird rights, they were prohibited from offering him a starting salary higher than $4.67MM, the amount of his declined option. However, that limit didn't stop the two sides from getting a deal done.
While it's possible potential suitors were hesitant to invest too aggressively in Smith based on the numbers he was putting up for a team out of playoff contention down the stretch, he's still just 22 years old and has the potential to continue improving.
Smith's role and place on the 2022/23 depth chart will be determined in part by whether veteran bigs like Myles Turner and Daniel Theis remain on Indiana's roster or end up elsewhere by the fall.