For the rest of the regular season and postseason, Hoops Rumors is taking a closer look at players who will be free agents or could become free agents during the 2023 offseason. We consider whether their stock is rising or falling due to their performance and other factors. Today, we're focusing on a handful of Southeast players.
---
2022/23: $13,000,000
2023/24: $13,000,000 player option
Stock:

Up
Kuzma has already said he plans to decline his player option and enter free agency, which makes a lot of sense from a financial perspective – he can only earn up to about $70MM over four years in an extension.
Through 35 games (35.4 minutes), the six-year veteran is averaging 21.6 points (a career high), 7.5 rebounds and 3.6 assists on .466/.341/.703 shooting (.560 true shooting percentage).
The 27-year-old's TS% is actually below league average (.577, the highest in NBA history), but he offers three-level scoring and an interesting blend of versatility on both sides of the ball. He should see a significant raise on his $13MM deal starting next season.
2022/23: $6,292,440
2023/24: UFA
Stock:

Down
It's a rare and impressive accomplishment for an undrafted player to last 10 NBA seasons, but the eldest of the three Holiday brothers has now joined that group, having found a nice niche as a 3-and-D wing from 2016-2021.
Holiday has earned between $4.3MM and $6.3MM each of the past six seasons, but his role and production have been limited in '22/23. He's averaging just 15.4 minutes per contest and 4.7 points through 26 games, while recording his lowest 3PT% (.345) since '15/16.
Perhaps more concerning is the fact that Holiday's defense isn't what it used to be, and he'll be 34 in April, so there's little reason to believe that will turn around. At this point, he's looking like a one-year, veteran's minimum type in free agency – assuming he finds a team.
2022/23: $14,375,000
2023/24: UFA
Stock:

Down
Similar to Holiday, playing 11 seasons as a former second-round pick (40th in 2012) is certainly an impressive achievement for Barton. He entered the league as a raw prospect, but flourished when he was traded from Portland to Denver, averaging 14.0 points, 5.3 rebounds and 3.3 assists per game on .438/.362/.789 shooting over seven-plus seasons.
Unfortunately, injuries have sapped Barton's athleticism in recent years, and he was never a great defensive player. That – along with being traded to the Wizards in the offseason – has been detrimental to his career. He's producing at his lowest level since his Trail Blazer days, averaging just 8.3 points, 3.0 boards and 2.7 assists per game on .371/.370/.800 shooting (.486 TS%) through 31 contests (22.3 minutes).
Barton will have earned more than $80MM in his career once this season is over, but he's clearly on the tail end of things, and is probably looking at a veteran's minimum contract in the offseason.
2022/23: Minimum salary
2023/24: RFA
Stock:

Up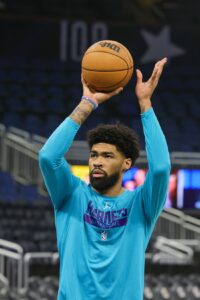 The 42nd pick of the 2020 draft, Richards rarely saw the court in his first two seasons, averaging just 6.3 minutes across 68 games. Suffice it to say, external expectations were not high for the 7'0" center entering '22/23.
The fact that he has been one of the most productive backup centers in the league this season – he's averaging 9.0 points and 6.4 rebounds in 33 games (18.8 minutes) – has been a pleasant surprise to say the least. The 9-26 Hornets currently hold the second-worst record in the league, but Richards has been a bright spot.
The 25-year-old will be a restricted free agent in the offseason and should garner a nice raise on his current minimum-salary deal.
(As an aside, I have no idea why Mason Plumlee continues to see the majority of minutes in the middle over Richards and first-rounder Mark Williams. Plumlee turns 33 in March, will be an unrestricted free agent, is a negative on defense, and Charlotte clearly isn't going anywhere. Very odd situation for one of the league's most perplexing teams.)
2022/23: $5,808,435
2023/24: RFA
Stock:

Down
Washington has several desirable traits – he can play both frontcourt positions (though he has played almost exclusively power forward this season), he's a decent defender, he holds a career 3PT% of .368, he can leverage the threat of his outside shot to pump-and-drive, and he can post up smaller players, particularly favoring a mini-hook shot down low.
The former lottery pick will turn 25 in the offseason, so he's theoretically still on the upside of his career, and he's posting a career-best 14.8 points through 34 games in '22/23. So why is his stock down to this point?
Well, down is relative. I thought Washington could get a deal in the four-year, $60-70MM range on a rookie scale extension before the season started, and I wouldn't be shocked if he still does, but it won't be because he's having a strong contract year. Despite playing a career-high 31.8 minutes per contest, he's averaging a career-low 4.9 rebounds, his defense has regressed a little to my eyes, and his efficiency has plummeted. He has posted .416/.337/.798 shooting splits for a .519 TS%, after registering a career-high .588 TS% in '21/22.
Playing without the team's best passers for much of the season hasn't helped, and there's plenty of time for Washington to turn things around with a strong second half. Still, his stock has definitely dipped since October.