Tommy Sheppard has been dismissed as general manager and president of the Wizards, the team announced in a press release. The move comes after another disappointing season for Washington, which compiled a 35-47 record and failed to qualify for the play-in tournament.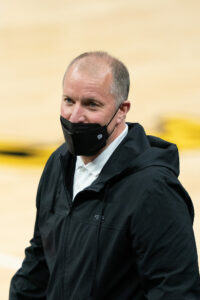 Sheppard, 53, had been with the organization since 2003, starting as vice president of basketball operations. He had served as GM since 2019 when he was promoted to replace Ernie Grunfeld. He received an extension and a promotion to president of basketball operations after the club got off to a strong start in 2021/22.
The Wizards never won more than 35 games in a season under Sheppard's tenure and they reached the playoffs just once, advancing through the play-in tournament in 2021 before losing to the Sixers in the first round.
"Failure to make the playoffs the last two seasons was very disappointing to our organization and our fans," owner Ted Leonsis said in a statement explaining the move (Twitter link from ESPN's Adrian Wojnarowski).
Sheppard's departure means someone else will handle key financial decisions in what should be an important summer for Washington. Kyle Kuzma and Kristaps Porzingis are both expected to turn down their player options for next season and test free agency, although Porzingis is involved in extension talks with the team.
The new GM will also try to improve on Sheppard's performance in the draft, as Washington holds the No. 8 spot heading into next month's lottery.
Pelicans general manager Trajan Langdon and Timberwolves president of basketball operations Tim Connelly are names to watch as the Wizards launch their search for Sheppard's replacement, tweets Jeff Zillgitt of USA Today.
The front office shakeup won't affect Wes Unseld Jr., who just completed his second season as head coach, according to Wojnarowski (Twitter link), who hears from sources that Leonsis remains a strong supporter of Unseld.