The Wizards and big man Kristaps Porzingis have engaged in "serious" discussions about a possible contract extension, reports Shams Charania of The Athletic.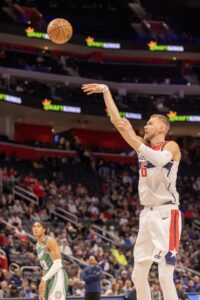 Porzingis, who holds a $36MM player option for the 2023/24 season, is currently eligible for a veteran extension as long as he turns down that option as part of any agreement. In that scenario, his first-year salary would have to match or exceed his $36MM option salary.
If he were to decline the option, Porzingis would be eligible for an extension worth up to approximately $180MM over four years, beginning in '23/24, as Charania observes. However, The Athletic's report doesn't make it clear exactly how high the Wizards are willing to go with their offer.
Porzingis is enjoying arguably his best season since entering the NBA in 2015. He has averaged 23.2 points, 8.4 rebounds, 2.7 assists, and 1.5 blocks in 32.6 minutes per game for the Wizards, with an impressive shooting line of .498/.385/.851. In addition to his increased production, the 27-year-old has avoided the injured list this year — his 65 games are the most he has played in a single season since 2016/17.
Despite Porzingis' strong performance, the Wizards will likely finish in the lottery in the Eastern Conference. At 34-42, they're currently 2.5 games back of Chicago for the East's No. 10 seed with just six left to play.
The Wizards have reportedly shown interest in re-signing both Porzingis and forward Kyle Kuzma, who also holds a 2023/24 option that he's unlikely to exercise. While Kuzma has also been productive in D.C., Josh Robbins of The Athletic questions whether it makes sense to double down on the team's current core, given this year's underwhelming record. Robbins notes that the price tags on new deals for Porzingis and Kuzma will go a long way toward determining the wisdom of investing in the duo.
Because players who sign veteran extensions are limited to 20% raises in the first year of their new deals, Kuzma will become a free agent rather than signing an extension between now and July. He's earning just $13MM this season, so a 20% raise would result in a first-year salary of $15.6MM on an extension — he believes he can exceed that, though Charania says he and the Wizards have mutual interest in working something out in free agency.
Porzingis is earning $33.83MM this season, so his limit in the first year of an extension would be either 120% of that amount or the league-wide maximum salary for a player with between seven and nine years of NBA experience (whichever is lesser). Based on the NBA's latest cap projections, that would mean a maximum salary of $40.2MM for Porzingis.