JULY 6: The trade is official, the Heat announced (via Twitter). As part of the deal, Miami will also swap second-round picks with the Spurs, with Miami receiving a 2027 selection and San Antonio receiving a 2026 pick. The Cavs are also sending cash to the Spurs.
---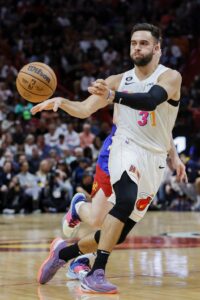 JULY 1: The Cavaliers, Heat, and Spurs have agreed to a three-team deal that will land Max Strus in Cleveland via sign-and-trade, reports Adrian Wojnarowski of ESPN (Twitter link). Agent Mark Bartelstein tells Wojnarowski that Strus has agreed to a four-year, $63MM contract with the Cavs.
Miami will acquire a second-round pick and will create a trade exception in the deal, while San Antonio will receive Cedi Osman, Lamar Stevens, and a second-round pick, according to Wojnarowski.
The second-rounder going to Miami is the Lakers' 2026 pick, while the one headed to San Antonio is Cleveland's 2030 selection, reports Chris Fedor of Cleveland.com.
Strus had been repeatedly mentioned as a top target for the Cavs in the days and hours leading up to free agency. A report on Thursday indicated Cleveland hoped its $12.4MM mid-level exception would be enough to land the 27-year-old, but with rumors suggesting his market was above the MLE, a report on Friday suggested the Cavs were looking into three-team sign-and-trade scenarios.
Right before free agency opened, Marc Stein reported that a scenario in which the Cavs sign-and-trade for Strus and use their mid-level exception to add Georges Niang appeared "increasingly likely." Sure enough, Cleveland is poised to add both players, having reached an agreement with Niang on Friday night.
A former undrafted free agent who had brief stints in Boston and Chicago early in his career, Strus blossomed into a reliable rotation player in Miami during the last two seasons. In 148 games since the start of 2021/22, he has averaged 11.1 points and 3.1 rebounds in 26.1 minutes per night, with a shooting line of .423/.376/.845. He moved ahead of Duncan Robinson in the Heat's rotation during that time in large part due to his more stable presence on defense.
The Cavs had been on the lookout for a wing to complement starters Donovan Mitchell, Darius Garland, Jarrett Allen, and Evan Mobley for the better part of the year. Strus should slot into that role nicely along with Caris LeVert, who also agreed to return to Cleveland.
In moving off Osman and Stevens in this trade, the Cavs should still be about $12.5MM below the luxury tax line with 10 players on the books, tweets Yossi Gozlan of HoopsHype.
The Heat, who project to be a taxpayer in 2023/24, had been bracing for Strus' departure, recognizing that they weren't prepared to match his price on the open market. They reportedly didn't want to take any salary back in a sign-and-trade and were able to achieve that goal. The traded player exception they generate as part of the transaction will be worth half of Strus' first-year salary — based on the reported terms of his deal, that TPE should come in at about $7MM.
As for the Spurs, they entered the day with more leftover cap room than any other NBA team and will use a portion of it to add a second-round pick and two forwards who are on expiring contracts and who should be in the mix for rotation roles if they remain on San Antonio's roster.
Osman, who will earn $6.7MM in 2023/24 before reaching unrestricted free agency, has been a rotation player in Cleveland for the last six seasons, averaging 9.7 PPG, 3.0 RPG, and 2.0 APG with a .353 3PT% in 404 games (23.6 MPG) during that time.
Stevens, a solid defensive wing who doesn't provide much on offense, has a $1.93MM non-guaranteed salary — some or all of that money will become guaranteed as part of this deal in order to satisfy the NBA's salary-matching rules.
The Spurs will still have approximately $23-26MM in cap space available.