Every week, Hoops Rumors takes a closer look at players who will be free agents or could become free agents next offseason. We examine if their stock is rising or falling due to performance and other factors. This week, we turn our attention to the Central Division:
Bobby Portis, Bulls, 23, PF (Up) – Signed to a four-year, $6.85MM deal in 2015
Portis turned down a contract extension to give himself a chance to shop his services this summer. Portis has battled a variety of injuries but has finally settled in since the New Year. He erupted for 26 points in 24 minutes in a victory over Miami on Wednesday. Portis is foul prone but can gather rebounds in bunches and is shooting 42.5% from long range since returning to the rotation. He'll be a restricted free agent if Chicago extends a qualifying offer but Portis' youth and production could land him an offer sheet once the bigger names are off the board.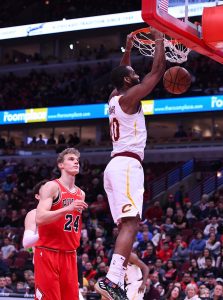 Alec Burks, Cavaliers, 27, SG (Up) – Signed to a four-year, $42MM deal in 2015
Burks was acquired from Utah in December because of his $11.5MM expiring contract, but he's playing regularly and showing off his versatility. Cleveland is using him in more of a playmaking role than he had with the Jazz and he recorded nine assists in a win over Washington on Tuesday. He's also been shooting it well (45.8% from long range) and contributing on the boards (5.5 RPG) since the New Year began. Burks could be traded again before the February 7th deadline.
Stanley Johnson, Pistons, 22, SF (Down) – Signed to a four-year, $12.8MM deal in 2015
Johnson got a fresh start after two disappointing seasons due to a coaching change. However, Johnson hasn't been any better under Dwane Casey than he was with Stan Van Gundy. He's shooting 26.8% from the 3-point line and doesn't finish his drives with any consistency. Johnson can be a hard-nose defender but much more was expected from a lottery pick who departed Arizona after one season. Johnson could be a restricted free agent if the Pistons extend a $5.3MM qualifying offer, but there's an increasing possibility the franchise will let him walk.
Brook Lopez, Bucks, 30, C (Up) — Signed to a one-year, $3.38MM deal in 2018
Lopez's game has changed dramatically since he entered the league. He does two things very well — stretch defenses with his 3-point prowess and block shots. He delivered both at high levels in January. Lopez shot 48.1% from long range and averaged 2.6 BPG, including a trio of contests in which he swatted five or more shots. Lopez fits well into Milwaukee's scheme, providing solid production at a bargain basement rate. He should be able to land a bigger contract this summer.
Bojan Bogdanovic, Pacers, 29 (Up)– Signed to a two-year, $21MM deal in 2017
Bogdanovic has steadily increased his production during his five NBA seasons and he's picking a good time to have a career year. Bogdanovic is averaging career highs in points, rebounds, assists, field goal percentage, 3-point percentage and steals. The Pacers will rely on his marksmanship even more with Victor Oladipo out for the season. A wing player that can knock down 40% of his threes is bound to grab plenty of attention this summer.
Photo courtesy of USA Today Sports Images.