The Knicks intend to fully guarantee Jericho Sims' $1.93MM salary for 2023/24, league sources tell Michael Scotto of HoopsHype (Twitter link).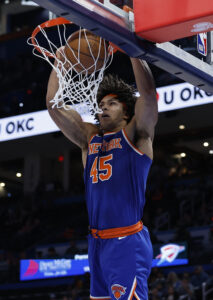 Entering the offseason, the young center's contract for the upcoming season was partially guaranteed for $600K. That guarantee increased to $1.2MM when New York kept him on the roster last month. Sims' salary will officially be fully guaranteed if he remains on the Knicks' roster past August 20.
The move was expected. The 24-year-old was a fill-in starter at times during his second NBA season in 2022/23, averaging 3.4 PPG and 4.7 RPG across 52 games (16 starts, 15.6 MPG).
The 58th pick of the 2021 draft, Sims initially signed a two-way deal with the Knicks, but received a promotion last summer to a multiyear standard contract after impressing the team. New York holds a team option on Sims' contract for '24/25 worth $2.1MM.
Sims is currently recovering from right shoulder surgery, which prevented him from participating during the Knicks' playoff run. He's expected to be fully recovered by training camp.
As our roster count shows, the Knicks are currently at the offseason maximum of 21 players under contract. They now have 12 players on guaranteed standard contracts, with all three two-way slots filled.