Over the next several weeks, Hoops Rumors will be breaking down the 2016 offseason for all 30 NBA teams, revisiting the summer's free agent signings, trades, draft picks, departures, and more. We'll evaluate each team's moves from the last several months and look ahead to what the 2016/17 season holds for all 30 franchises. Today, we're focusing on the Memphis Grizzlies.
Free agent signings:
Draft-and-stash signings:
Camp invitees:
Trades:
Acquired the draft rights to Deyonta Davis (No. 31 pick) and the draft rights to Rade Zagorac (No. 35 pick) from the Celtics in exchange for Clippers' 2019 first-round pick (lottery protected).
Acquired Troy Daniels (sign-and-trade) from the Hornets in exchange for cash.
Draft picks:
Departing players:
Other offseason news:
---
Check out our salary cap snapshot for the Memphis Grizzlies right here.
---
As the list of recent NBA Finals winners shows, star power is a key ingredient for most championship teams. The last 12 NBA champs are littered with All-Stars and future Hall-of-Famers, including Tim Duncan, LeBron James, Dwyane Wade, Chris Bosh, Kevin Garnett, Paul Pierce, Dirk Nowitzki, and Stephen Curry. Finding those star players, and accumulating two or three of them on one roster, can be difficult, but once a team lands them, it's worth paying a premium to keep them — depth and roster gaps can be filled on the cheap.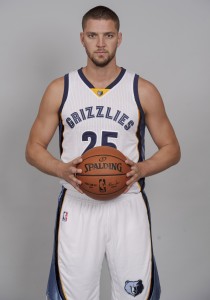 On the surface, the Grizzlies' offseason resembles the kind of summer a star-studded championship contender would have as it gears up for a title run — with one maximum-salary All-Star already on the roster, Memphis locked up another one of its starters to the biggest contract in NBA history, and signed another free agent to a max deal of his own. The league's growing salary cap means that the Grizzlies' three max contracts don't soak up all of the team's cap room, like they would have a year or two ago, but the money committed to Marc Gasol, Mike Conley, and Chandler Parsons is significant, and signals that the club views the trio as its core pieces going forward.
While Gasol, Conley, and Parsons are certainly above-average NBA starters, the Grizzlies' Big Three isn't exactly comparable to that of the Heat circa 2010. We'll start with Conley, who has never made an All-Star team, but has been a steady and productive second-tier point guard in the Western Conference over the last several years, behind a top tier led by Chris Paul and Russell Westbrook. Since Memphis held Conley's Bird rights, retaining him was a key component of the team's offseason, but the price to do so was awfully high. No NBA player has ever signed for more than the $152.608MM Conley will receive over the life of his five-year deal.
The Grizzlies were victimized by bad timing when it came to Conley's free agency. Other suitors, including the division-rival Mavericks, were ready to offer the veteran point guard a maximum-salary contract of their own, so Memphis had little choice but to put max money on the table. After Conley, the best unrestricted free agent point guards of 2016 were players like Jeremy Lin, Rajon Rondo, and D.J. Augustin, so if the Grizzlies had let Conley walk, the team would have been looking at a major downgrade at the position, and wouldn't have been able to fully maximize its cap room. Still, Conley is entering his age-29 season and has never averaged more than 17.2 PPG or 6.5 APG in a season. It's reasonable for Grizzlies fans to be a little uneasy about his new contract.
Around the same time the Grizzlies secured Conley, the team was also finalizing a max contract for former Maverick Parsons, another player who has never made an All-Star team. You could make the argument that the Grizzlies would be mismanaging an asset by losing it for nothing if they'd let Conley go, but that wasn't the case for Parsons, whom the team used most of its remaining cap room to sign. The veteran forward, who turns 28 later this month, is a talented sharpshooter, but he has yet to truly break out, and has been limited by injuries in recent years. Having undergone knee surgery in March, Parsons has yet to make his preseason debut for the Grizzlies, and may not be ready for the club's regular-season opener.
If Parsons were still 23 or 24 years old, it would be easier to be optimistic about his chances of getting 100% healthy and putting it all together for two or three solid years with the Grizzlies. But he's entering his sixth NBA season, and there are major questions about whether he'll live up to his new deal.
The question marks surrounding Parsons' health also relate to broader concerns about the Grizzlies' roster. Conley finished the 2015/16 season on the shelf with an Achilles injury, and Gasol – who is returning from a broken foot – suffered a bone bruise during the preseason. Memphis can certainly still contend for the playoffs if one of the club's top players is sidelined for a month or two, but for the team to reach its full potential, Conley, Parsons, and Gasol need to play 70+ games apiece. The odds of that happening don't seem great at this point.
With most of their cap room committed to their top three players, the Grizzlies got a little creative to add depth, particularly in the backcourt. The club acquired Troy Daniels in a sign-and-trade deal, brought over draft-and-stash prospect Andrew Harrison, used its room exception to sign James Ennis, and drafted Wade Baldwin and Deyonta Davis.
Not all of those players will be ready to contribute immediately, which could complicate matters at point guard. The Grizzlies signed, but waived, Tony Wroten, leaving Baldwin and Harrison to battle for the right to back up Conley. The team has no other viable point guard options, so if the youngsters aren't ready, or if Conley misses any time, another veteran addition will probably be necessary. For the most part though, Memphis did well with its limited leftover cap flexibility to add promising young players capable of taking on greater roles as the season progresses.
New head coach David Fizdale will be tasked with helping to develop those talented young newcomers, and while a coach's first offseason and preseason don't tell us a whole lot, the Grizzlies appear to like what they have in Fizdale. The former Heat assistant received rave reviews from his players in Miami, and reportedly made a strong first impression in Memphis. Although he's a first-time head coach, Fizdale indicated he wasn't interested in leading a franchise through a rebuilding process, and expressed a desire to take the Grizzlies "from good to great."
One of Fizdale's first moves has been to move veteran big man Zach Randolph from the starting lineup to the bench, with JaMychal Green taking over as Memphis' starting power forward. Replacing one of the longest-tenured Grizzlies with a third-year player on a non-guaranteed contract is a bold move, but one that makes sense. Green won't be asked to do too much as a starter, with Conley, Parsons, and Gasol prepared to handle the offensive load, while Randolph will add some much-needed scoring punch to the club's second unit.
Of course, Randolph's role may remain flexible once the season gets underway — having him play off the bench is a move that could be easily undone. The same can't be said for the Conley and Parsons contracts, which combine to total nearly $250MM. If the Grizzlies' high-priced gamble that Conley and Parsons are max-salary players pays off, they should vie for a top-four spot in the West and would be one of the top challengers to the Warriors in the postseason. But if the team's standout players continue to battle health problems and don't live up to those big-money deals, Fizdale could be in for a major challenge during his first year in Memphis.
Salary information from Basketball Insiders used in the creation of this post. Photo courtesy of USA Today Sports Images.