Spurs forward Rudy Gay will turn down his 2018/19 player option, electing to become a free agent on July 1, reports ESPN's Chris Haynes. The option would have paid Gay a salary of $8,826,300 for next season.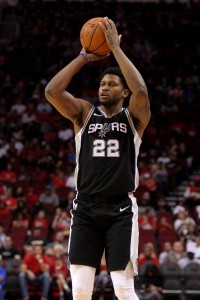 [RELATED: NBA Player Option Decisions For 2018/19]
Gay, whose 2016/17 campaign ended early due to an Achilles injury, made a speedy recovery and was ready to go for the Spurs in the fall after signing a two-year, $17.2MM deal with the club. However, he was nagged by Achilles and heel problems during the winter, limiting him to 57 regular season games — he never seemed fully like his old self.
"A lot of times, I will-powered through games, will-powered through practices," Gay told Jeff McDonald of The San Antonio Express-News in April. "I didn't feel like there was anything worse I can go through (than the Achilles tendon injury)."
In that conversation with McDonald earlier in the spring, the veteran reportedly sounded "genuinely torn" over whether or not to pick up his option, but it makes some sense that he'd seek a new deal on the open market. While Gay missed time with health problems and averaged a career-low 21.6 minutes per contest, his per-minute numbers were solid, as he posted 11.5 PPG and 5.1 RPG with a .471/.314/.772 shooting line for the season.
Additionally, Gay may not want to lock himself into another season with the Spurs as long as the team's roster remains in flux. In addition to Kawhi Leonard's reported desire to leave San Antonio, Danny Green and Joffrey Lauvergne also have player-option decisions to make, Tony Parker and Kyle Anderson will be free agents, and Manu Ginobili is believed to be considering retirement.
Still, Gay is no lock to get a raise on his $8.8MM+ player-option salary. The mid-level exception for 2018/19 figures to be worth a little less than that, so in order to top that salary, Gay would probably have to either negotiate a new deal with San Antonio or find a team with cap room willing to make him a sizable offer.
If Gay ultimately settles for a lesser salary for next season, it would be the second consecutive summer that he has taken a pay cut. In 2017, he declined his $14MM+ option with the Kings before signing that new deal with the Spurs that paid him approximately $8.4MM in 2017/18.
Photo courtesy of USA Today Sports Images.