JUNE 18: Crawford has declined his 2018/19 option, league sources tell Shams Charania of Yahoo Sports (Twitter link).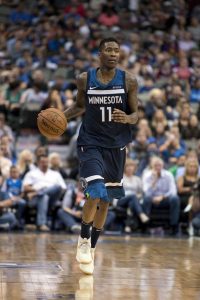 MAY 2: Veteran shooting guard Jamal Crawford will turn down a player option that would have paid him $4,544,400 for the 2018/19 season, reports Chris Haynes of ESPN.com. Crawford, who signed with the Timberwolves last summer, will hit the free agent market rather than opting into the second year of his contract with the club.
Crawford, 38, joined the Wolves after being traded from the Clippers to the Hawks and then reaching a buyout agreement with Atlanta. In his first – and potentially only – season in Minnesota, the 18-year vet averaged 10.3 PPG and 2.3 APG with a shooting line of .415/.331/.903.
Haynes' report doesn't give any hints about what Crawford's next move will be, but it's safe to say he'll be looking for a role on a contending team. Declining his player option doesn't necessarily mean that Crawford won't return to the Timberwolves, since the two sides could, in theory, work out a new deal. In fact, Haynes says in a follow-up tweet that Jimmy Butler has told management he'd like to have Crawford back next season.
Still, Minnesota already has more than $110MM in guaranteed salary on its books for 2018/19, and wants to add wings who can shoot threes and defend multiple positions. While Crawford fits that bill to some extent, the Wolves will likely be seeking more traditional three-and-D players, so it's not clear whether he'll be part of their plans.
Several veterans have already exercised – or will exercise – their player options for 2018/19, since there's a belief that league-wide spending in free agency will be down this summer. However, Crawford's option salary of $4.5MM+ was fairly modest, and he has already earned over $100MM in his NBA career, as our Austin Kent noted on Tuesday. As such, turning down that option isn't a major gamble. Even if he gives up a couple million dollars and settles for a minimum-salary deal this offseason, Crawford would likely be willing to trade that money for a legit shot at a title.
Photo courtesy of USA Today Sports Images.