JULY 8, 8:27am: The trade is now official, according to press releases from all three teams. In addition to receiving Biyombo, the Hornets will also acquire 2019 and 2020 second-round picks from the Magic. Orlando holds multiple second-rounders in each year, so it's not yet clear which selections are changing hands.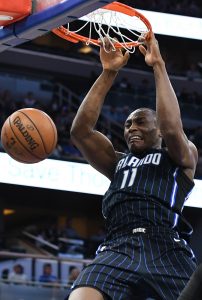 "There were some elements of (the trade) that we were discussing individually the last few weeks, but the deal actually came together just [on Saturday]," said Magic president of basketball operations Jeff Weltman. "It was really kind of a quick-hitter."
The Bulls intend to waive Stone, per Vincent Goodwill of NBC Sports Chicago (Twitter link).
JULY 7, 8:20pm: The trade has been agreed to in principle, according to Wojnarowski (Twitter link).
JULY 7, 7:51pm: Charlotte, Chicago and Orlando are close to a trade that would send Timofey Mozgov to the Magic, Bismack Biyombo to the Hornets and Julyan Stone to the Bulls, tweets ESPN's Adrian Wojnarowski. Bulls guard Jerian Grant will also go to Orlando in the deal, Woj adds (Twitter link).
The Hornets will give up more than $17MM in the trade between Mozgov's $16MM salary for next season and Stone's non-guaranteed $1,656,092. This will be the second trade of the summer for Mozgov, who was shipped from the Nets to the Hornets in a deal that became official yesterday. He has two years left on his current contract, with a $16.72MM salary for 2019/20.
In Biyombo, Charlotte picks up a shot blocker to replace Dwight Howard, who went to Brooklyn in the Mozgov deal. Biyombo's contract is nearly in line with Mozgov's, paying him $17MM in 2018/19, with a player option for the same amount the following season. Orlando breaks up a logjam at center that had existed since drafting Mohamed Bamba, while Mozgov becomes the third-string center in Orlando and probably won't see much more playing time than he did in Brooklyn.
Chicago plays a minor role in the trade, creating modest savings by sending out Grant's $2,639,314 salary in exchange for Stone's non-guaranteed figure. The Bulls could be looking to shed any salary they can before their expected matching of the Kings' offer sheet for Zach LaVine.
Stone's guarantee date is August 1, posts Bobby Marks on ESPN Now, and the Bulls can increase their cap room to $16MM by letting him go and getting rid of Noah Vonleh's cap hold. Taking on Biyombo's contract pushes the Hornets up to $120.3MM in salary with 14 guaranteed deals, just $3.4MM under the luxury tax.
Photo courtesy of USA Today Sports Images.