The Suns have officially signed guard Devin Booker to a contract extension that will cover five years and pay him the maximum salary, the team announced today in a press release. The club also tweeted out of a photo of Booker with the finalized contract.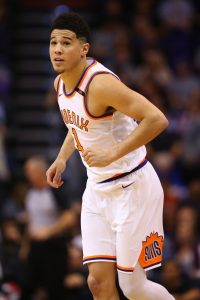 "I am humbled and honored to commit to the Suns organization long term," Booker said in a statement. "I have loved calling Phoenix home the last three seasons as this team and community are special to me. Thank you to the Suns for drafting me and believing in me. I look forward to the future and pursing a title as a Phoenix Sun."
The Suns and Booker met earlier this week and were said to be making progress toward finalizing a new five-year max extension. The deal couldn't be completed until after the July moratorium ended on Friday.
Booker's new contract will go into effect starting in the 2019/20 season. Currently, based on a $109MM cap projection for that league year, a five-year deal would be worth $158MM. However, that figure could go up or down depending on where the salary cap ultimately lands. The starting salary will be worth 25% of the cap.
Booker, 21, has improved his numbers across the board during his first three seasons in the NBA, establishing new career highs in PPG (24.9), APG (4.7), RPG (4.5), 3PT% (.383), and several other categories in 2017/18.
The Suns haven't won more than 24 games in a season since Booker debuted with the team, but the franchise appears to be trending in a positive direction. So far this offseason, the club has added No. 1 overall pick Deandre Ayton, young three-and-D wing Mikal Bridges, and veteran wing Trevor Ariza, among others, so Booker should have more help going forward.
Booker was one of 23 former first-round picks eligible for a rookie scale extension this offseason. While the Suns guard was the first one to officially sign a new deal, there are several other candidates to get one before the mid-October deadline, including Karl-Anthony Towns, Kristaps Porzingis, Myles Turner, and Larry Nance.
Photo courtesy of USA Today Sports Images.