JULY 9: The Nuggets have officially signed Barton to his new four-year contract, according to a press release from the team.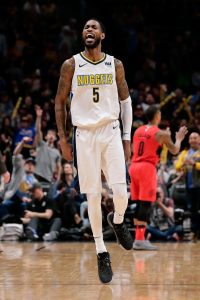 "Will Barton is a fearless competitor that never backs down," president of basketball operations Tim Connelly said in a statement. "He has continuously pushed himself to be the best player and teammate he can be and gives it his all no matter what role he is asked to play. We are very excited to have gotten this deal done and to keep an important player like Will as a key part of our future."
JUNE 30: The Nuggets will come to terms on a four-year deal with free agent swingman Will Barton, Chris Mannix of Yahoo Sports tweets. The news comes an hour before the official free agency period begins.
The four-year contract will be worth $54MM, Chris Haynes of ESPN tweets, with a player option in the final year. Per Zach Lowe of ESPN, the final year of the four-year deal will include a player option.
Barton, a 27-year-old shooting guard, is coming off a career year with the franchise. The prolific two guard averaged 15.7 points per game on the season but 17.7 points, 5.6 rebounds and 4.4 assists in games that he started.
It was previously reported that Barton would be meeting with the Pacers later tonight but Alex Kennedy of Basketball Insiders writes that that meeting was never scheduled.
With Nikola Jokic's recently reported five-year extension factored in, the acquisition of Barton at over $12MM annually will put the Nuggets on pace to shatter the luxury tax line.
Of course club president of basketball operations Tim Connelly will have plenty of time to rectify that and, as we wrote earlier, will be looking to shed contracts in trades.
At the end of the day, while the deal could put the Nuggets over the tax if they can't unload any of their unwanted contracts, they have $34MM set to expire next summer when Kenneth Faried, Wilson Chandler and Darrell Arthur all come off their books.
Photo courtesy of USA Today Sports Images.